The Top Southaven, MS Roofing Company
We know there are a number of roofing companies serving the town of Southaven, MS. That's why our team will guarantee that your Southaven roof and gutters are installed the right way using only the highest quality materials.
Our proof is in the roof! At Restoration Roofing we are not only licensed, insured, bonded, but we also have the most 5-star Google reviews of any roofing company in the area. That means we have thousands of jobs and happy customers under our belts and the experience to ensure it's done right the first time.
Nestled in the northwest corner of Mississippi, Southaven offers an exceptional blend of a vibrant community and a thriving economy, while retaining its small-town charm. As Mississippi's third-largest city, Southaven is a hub of activity and growth, home to an array of unique local businesses, an award-winning parks system, and a community that embodies the essence of Southern hospitality.
At Restoration Roofing, we're honored to serve this dynamic community by providing our roofing, gutter, and skylight services. We appreciate the inviting atmosphere and community spirit of Southaven and are committed to ensuring homes and businesses here are protected with high-quality, durable roofing.
Whether you need a roof repair following a storm, want to replace or upgrade your gutters, or seek to brighten up your home with a skylight, our team is here to serve your needs with quality workmanship and dedicated customer service.
Southaven Residential and Commercial Roofing Services
From routine roof repairs to full roof replacement, our experienced Southaven roofing contractors have seen it all and have the skill and quality materials to get your home back to perfect condition.
Any leaks in your home need to be addressed immediately to avoid further damage to your home. We recommend having a yearly roof and gutter inspection to pinpoint any areas of concern. As the top qualified roofing contractors in Southaven, our team will keep you covered for years to come.
Restoration Roofing can also help if you own an office space, apartment complex, retail location or other commercial building in the Southaven area. From a minor repair to an entirely new commercial roof, our team offers the same high-end service. We offer shingle roofing, metal roofing, TPO roofing options. If you are concerned with the condition of the roof on your Southaven building, then give us a call for a complimentary roof inspection now.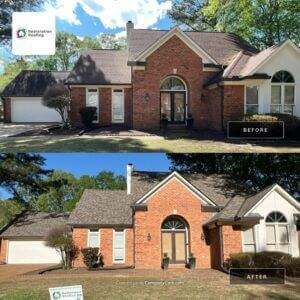 Work With Restoration Roofing
As a locally owned and operated Southaven, MS roofing company, Restoration Roofing is committed to providing the highest quality services using long-lasting roofing material. We understand the importance of a robust, secure roof for your home or business, and that's why we offer comprehensive services ranging from roof inspections and timely repair work, to total roof replacements.
We're specialists in dealing with various roofing materials, including durable metal roofs and classic asphalt shingles. We can handle everything from repairing a small leak to undertaking a large-scale project like a total roof replacement. In the aftermath of a storm, count on us for swift and efficient storm damage repairs. We also liaise with your insurance company to streamline the insurance claim process, making it stress-free for you.
And when it's time for a new roof, we offer free estimates and provide energy-efficient solutions at a reasonable price. Choose Restoration Roofing in Southaven, MS for all your roofing needs – because we do an excellent job every single time.
Southaven Storm Damage Roof Repair and Replacement
When a storm causes damage to your roof, we understand how stressful the insurance claims process can be. If you notice storm damage on your Southaven roof, we recommend calling a roofing contractor to complete an inspection right away. At Restoration Roofing we will work with you to document all the storm damage and assist you throughout the entire process.
Examples of storm damage on your roof include:
Wind Damage
Hail Damage
Tree or Limb Damage
If you suspect that your home may have storm damage, give Restoration Roofing a call and we will perform a complimentary inspection and digital report for you to take to your insurance.
Skylight Repair and Installation
Ready to bring natural light into your home? Adding skylights is a great way to transform your home and improve your overall well-being. We are a 5-star VELUX skylight specialist which means that we carry and service VELUX skylights in the Southaven area.
At Restoration Roofing, we specialize in installing residential and commercial skylights quickly and hassle free. We offer clients a range of skylights including fixed skylights, manual skylights, electric "Fresh Air" skylights, and solar powered "Fresh Air" skylights.
We can also brighten even the smallest spaces with Sun Tunnel skylights. These offer a simple and clean way to bring natural light to even the smallest spaces in your home including hallways, bathrooms, and closets.
With multiple functions, sizes, and accessories we can meet every need while the No Leak Warranty offered by VELUX, provides peace of mind.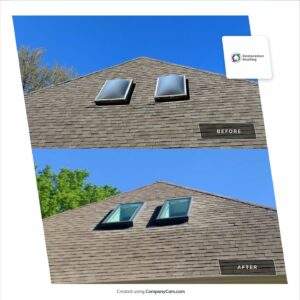 Southaven Gutter Installation and Repairs
Gutters are an important component of your roof. They are crucial in helping manage water away from your home and prevent damage to your roof or home foundation.
At Restoration Roofing we offer gutter repair and replacement in the Southaven area. Our gutters and downspouts are available in different sizes, colors, and shapes to ensure that you get a sturdy gutter system that resists leaf buildup and diverts rainwater safely away from your house.
Issues with clogged gutters? We offer a top quality solution through our RainDrop Gutter Guards. These guards allow for water to flow freely through your gutters and prevent buildup of debris including leaves, animal nests, and pine needles. Gutter guards are installed easily on top of your gutter system and are a great solution for those who do not like cleaning their gutters every year.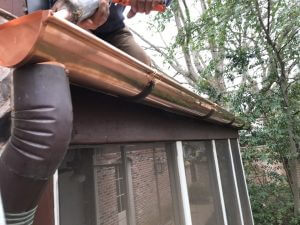 What to Expect from Our Southaven Roofers
When you entrust your roofing, gutter, or skylight project to Restoration Roofing, you can expect a seamless and professional service that exceeds expectations. Here's what you can anticipate:
Inspection: Our team of professional roofers start every project with a thorough inspection of your roof, gutters, or skylights. We ensure every aspect of the task at hand is meticulously examined to give you the most accurate estimate.
Estimate Explanation: We believe in transparency with our customers. Our Mississippi team will provide a detailed explanation of the project estimate, ensuring you understand the scope of work, the materials to be used, and the price.
Covering the Property: We respect your property and treat it with the utmost care. Before any construction or renovations start, we ensure your house, landscaping, and other property elements are adequately covered to avoid any potential damage.
Quality Install: Whether it's shingles on your roof or a new skylight, we guarantee a durable and high-quality installation. Our roofers are skilled, experienced, and committed to delivering top-tier services.
Cleanup: Once the job is completed, our team undertakes a comprehensive cleanup of the site. We leave your property just as we found it, except with a new or repaired roof, gutters, or skylights!
So, whether you're a homeowner in need of maintenance, or a client looking to hire contractors for a larger project, contact Restoration Roofing. We pride ourselves on the quality of our services and our dedication to our customers. Let us make your next roofing, gutter, or skylight project a smooth and hassle-free process.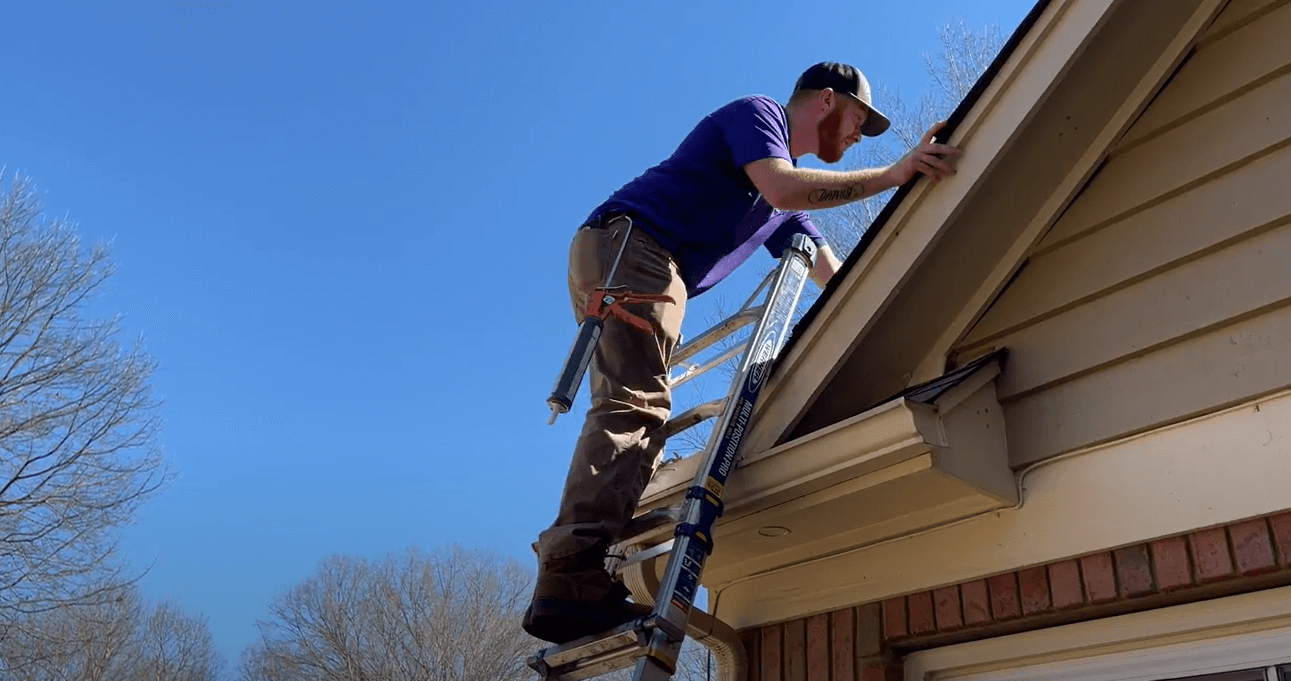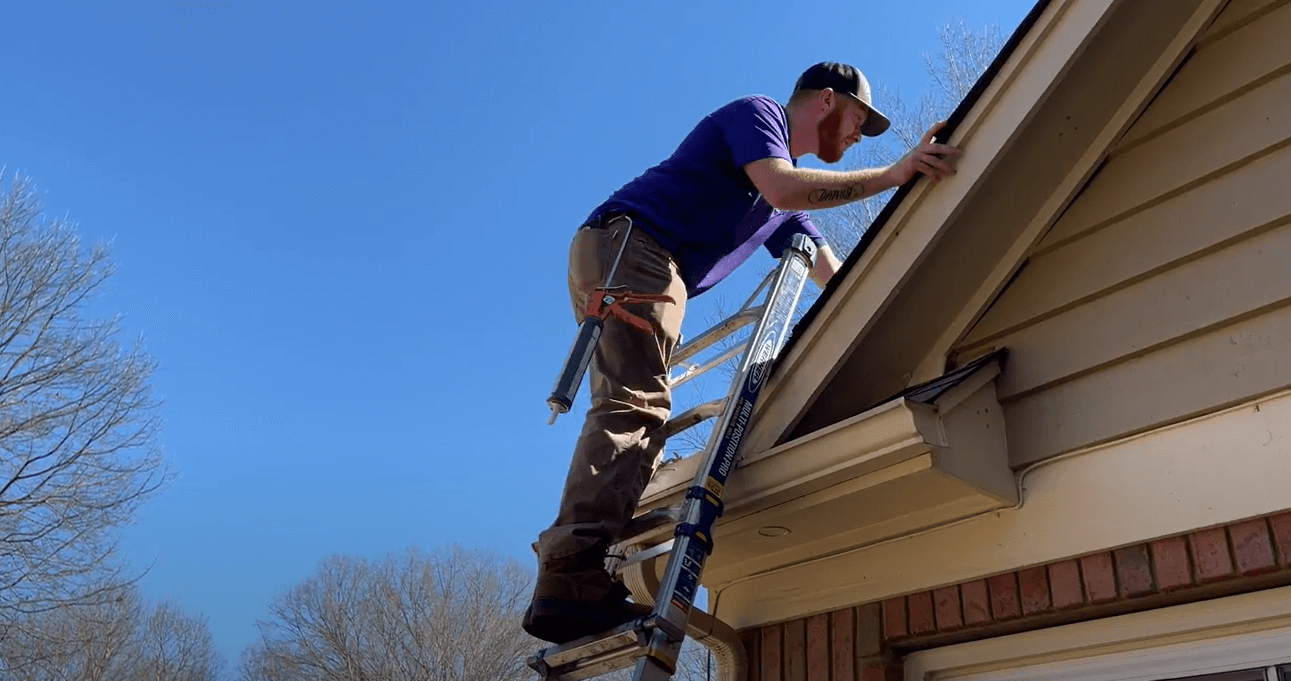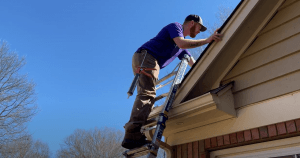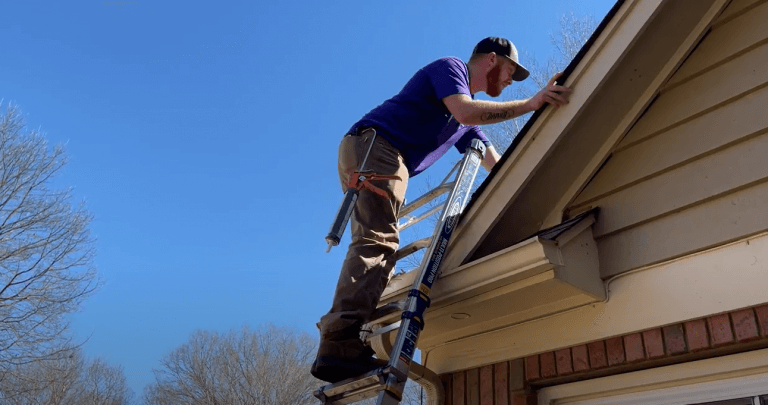 Why We Are The #1 Roofing Contractor in Southaven
From residential roofing in Southaven to commercial roofing, our roofing experts are the ones to call! Not only do we have the experience to give you a long-lasting and aesthetically pleasing roof, but we are also fully licensed, bonded, and insured.
Our team is Diamond Level Atlas Shingle installers – the highest level that comes with the best warranty for your roof. To learn more on why we choose to install Atlas Shingles for our customers, check out our video: Why We Install Atlas Shingles.
We are a family-owned company built on principles of honesty, respect for all, and generosity. These principles bind us and are the guidelines by which we live and work by. We take our projects personally and we get gratification from making our customers happy. If you are looking for a Southaven, MS roofer, contact us to learn more! 901-854-3402 or fill out our Contact Us Form.