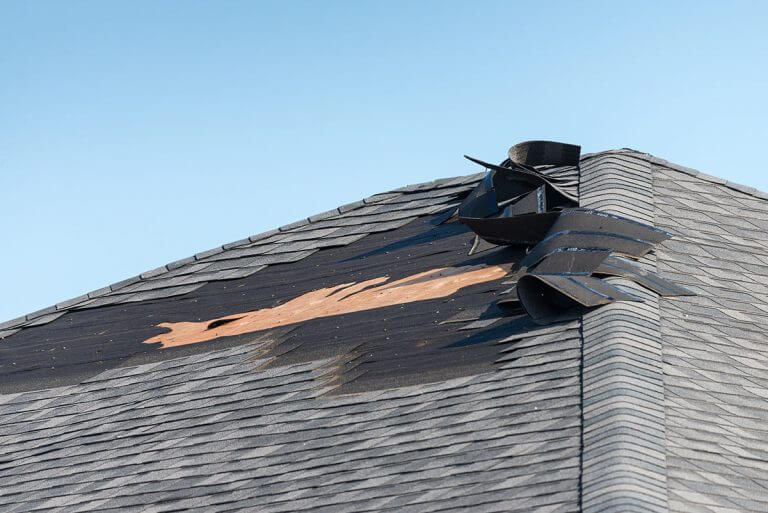 Roof Repairs
Our team of certified roofing experts can help with a range of Memphis roof repairs from loose gutters and damaged fascia to missing shingles. The roof on your home is important, but it is often ignored until something goes wrong. The roof protects the house's construction, your family and everything stored inside your home. If you haven't visually inspected your roof lately, it's a good idea to give it some attention to get ahead of any common maintenance or repair issues that may arise.
Your roof is made up of layers, but it's most common that homeowners first notice that there is something wrong with the shingles. Shingles are the first line of defense when it comes to protecting the decking material underneath, so it's important that your shingles are kept well maintained.
Signs of Roof Damage
If you notice that you have missing shingles, then be sure to note how many are gone. It's common for a couple of shingles to come off during a big storm, but keep in mind that you can't see the entire roof. If one or two are missing, then there could be a lot more, which can create a problem in the long run.
During your visual inspection of the roof, you should be looking for damage to the shingles as well. If they are curling, splintered or cracked, then you will want to call us to do a more detailed roof inspection. Another item to take note of is whether your shingles appear to be damp, wet or have moss growing on them. This could indicate trapped moisture or a leak in the roof and should be taken care of as soon as possible.
If you are noticing sandy, black granules on the ground or in the rain gutters, it could be a sign that your shingles are deteriorating. As you're looking over your roof, pay special attention to the openings around chimneys, vents and pipes. What you should be looking for is excess wear in those areas.
Peeling paint on the house is another sign that your roof needs maintenance due to improper attic ventilation related to the roof or gutters. Don't forget to look over your roof deck for signs of damage as well.
There are clues inside your house that your roof needs work, like water-stained ceilings that you should not ignore. Leaky roofs never get better on their own, so don't put off getting your roof fixed. If your attic or crawl space is damp or you see light coming in, there are both indications that you need the help of a professional roofer.
Finally, if it seems like your energy bills have been higher than normal, it could be a sign of a problem with the roof due to faulty ventilation or a hole in the roof.
Storm Damage On Your Memphis Roof
It's important to know that there's a difference between roof damage caused by old age and roof repairs needed after a storm. Roof repairs caused by old age and roof repairs caused by storm damage differ in several ways.
Roof repairs caused by old age are typically the result of wear and tear over time, such as cracked or missing shingles, sagging or buckling roof deck, or deteriorated flashing. These types of repairs are usually less urgent and can often be completed if planned and budgeted for in advance.
On the other hand, roof repairs caused by storm damage are usually unexpected and can be more urgent, such as damage from fallen tree limbs or hail. These types of repairs require immediate attention to prevent further damage to the roof and the interior of the home or building. Storm damage repairs can often be covered by insurance and in some cases can lead to an entirely new roof covered by insurance. To learn more, check out our blog: What is a discontinued shingle?
It's important to work with a reputable Memphis roofing contractor who can properly assess the roof repair damage and recommend the best course of action for your specific situation.
Questions to Ask Your Roofer
Before hiring a Memphis roofer for your roof repairs, it's important to ask the right questions to ensure that you're hiring a qualified and reputable contractor.
First, ask about their license and insurance, ensuring that they are licensed to work in Tennessee and have liability and workers' compensation insurance.
Next, ask about their experience and credentials, such as certifications and training. It's also important to ask about their process for assessing and diagnosing the roof problem, as well as their proposed solutions and estimated cost for repairs.
Inquire about their warranty or guarantee on their work and the roofing materials they use.
Additionally, ask for references from past customers and check online reviews.
Finally, ask about their timeline for completing the repairs and their communication process throughout the project.
A reliable and professional Memphis roofer will be happy to answer your questions and provide you with the information you need to make an informed decision.
Choosing A Roof Repair Company in Memphis
We know your roof is a very expensive and important part of your home, so you want to choose only the best. Our team of professional roofing contractors specializes in providing high-quality roofing and construction services, to homeowners and businesses in the greater Memphis area. With years of experience in the roofing industry, we have the expertise and knowledge to handle any roofing repair project, big or small.
At our roofing company, we understand the importance of customer satisfaction and quality service. That's why we have a dedicated project manager for each of our Memphis roof repairs, ensuring that every customer receives the attention and care they deserve. Our team members are highly trained and skilled, using only the best roofing materials and quality workmanship to provide you with a durable and long-lasting roof.
Our roofing services include but are not limited to:
Roof repair: From missing shingles to leaks, our team can quickly and efficiently repair your roof to prevent further damage. Every year we perform hundreds of Memphis roof repairs.
Roof replacement: If your roof is beyond repair, we offer roof replacement services using only the highest quality roofing materials.
Roofing insurance claims: There are times with your roof repair can be filed under an insurance claim. Dealing with the insurance company can be a headache. Let us handle your roofing insurance claim to ensure that you receive the compensation you deserve.
Roof installation: Our team is always going to be honest when it comes to the best solutions for your asphalt roof and we will let you know when continuous roof repairs will cost more than a new roof. We specialize in installing new roofs, ensuring that they are installed correctly and efficiently.
Gutter installation and Repairs: In addition to roofing services, we also offer gutter installation and cleaning services to protect your home from water damage.
Skylight installation and repairs: Our team members our certified 5-Star VELUX skylight installers. We can help if your skylights are leaking, cracked, incorrectly sealed, or fading from old age.
Commercial roofing: Our team is experienced in providing commercial roofing services to businesses in the Memphis area.
Helpful roofing resources: We believe in educating our customers, and providing them with helpful roofing resources to help them maintain and care for their roofs.
Memphis Roofing Contractor
If you're looking for a professional roofing contractor in Memphis, TN, look no further. Our team has been serving Memphis for over 14 years. Contact us today for a free inspection and free quote. We are committed to providing our customers all over the Mid-South with the highest quality roofing services at an affordable cost. Let us help you protect your home or business with a durable and long-lasting roof.
Roof Repair FAQs Near Memphis, Tennessee
Below are frequently asked questions roof repair. If you have questions about a roof repair or if you're looking for a roof repair specialist, please don't hesitate to contact us. 
Can I Repair the Roof By Myself?
To avoid more problems down the road, we don't advise DIY when it comes to roof repairs. Without the proper training and experience, you may end up damaging your roof. This will cost you more money in repairs or replacements. It's better to hire professional roofers who can successfully repair your roofs. Choose roofers with extensive experience to get the best results. 
What Will It Cost to Fix My Roof?
The cost of repairing a damaged residential or commercial roof depends on its size, the type of materials used, the condition of your roof and how much the roofing contractor charges for repairs. To get an estimate, we suggest you contact a roof repair service in your area. Let us know if you need service, and our contractors will provide an estimate. 
How Can I Tell If My Roof System Has Problems?
If you see damaged or missing shingles, contact a roofing contractor right away for an inspection. Other signs to watch out for include leaks on your ceilings, cracked or discolored drywall, granules in the gutter, loose or missing flashing and mold in the interior and exterior walls. We also suggest you contact professionals if your roof is over 20 years old. A roofing inspection should determine if you need roof repairs, maintenance or replacements.
How Long Does It Take to Repair a Roof?
How long it takes to repair a damaged roof depends on the severity of the damage and the size of the project. Minor roof repairs may only take a few hours, while major repairs can take a couple of days. It's better to speak with professionals to ensure you know the estimated time of project completion. 
How Do I Choose the Right Roofing Contractor?
Look for roofers with years of experience in roof repairs and installations. Ask for their certifications to know their credentials as a roofer. Also, we suggest you choose a local contractor to make it easier and quicker to contact them should you need an emergency roof repair or roof leak repair. 
Ensure the contractor is also licensed to perform repairs or installation services in your area and is fully insured. If possible, ask for referrals or read customer reviews online. When still in doubt, consider asking the contractor for some references for your peace of mind. 
What Makes Restoration Roofing the Right Company for Me?
Our team of roofing professionals is well-trained and experienced with roof repairs, inspections, maintenance and installation. Our certifications include the Atlas Roofing Diamond Installer, TAMKO Mastercraft Pro Certified Contractor, Commercial Skylight 5-Star Installer and DEC TEC Certified Installer. Additionally, we have an A+ rating with the BBB, making us one of the area's most reliable residential and commercial roofing companies. 
Get in Touch
Restoration Roofing is the top Mid-South roofing company serving Memphis, TN and surrounding suburbs. Our roofers specialize in residential and commercial roofing, gutters, and skylights. Our team of fully licensed and insured contractors tackle projects ranging from roof repairs and replacement to new installation. If you've been having problems with your roof or need roofing maintenance, you've come to the right place. Please reach out to us today for an estimate.