Insurance Claims
At Restoration Roofing, we handle insurance claims in a different way from most of our competitors.
There are many times that we arrive to a property where the homeowner believes he/she has weather-related damage and we hear the same story: "Another roofer came out and said we have a claim, but they wanted us to sign a contract that binds us into using them, without us even knowing the price or if we even have a claim!" We do not force you to sign a contract before a claim is granted. We do not use scare tactics or high-pressure sales tactics to convince you that you need a new roof. Simply, we are honest and will shoot you straight, in addition we are here to represent you and to help guide you through the process of getting a new roof.
So how does it work?
It starts with a free inspection: One of our estimators will come out and look at your roof. We look for things that are indicative of the damage caused by a weather event. We will present you with the evidence and will counsel you on the next step.
If you have damage, we will instruct YOU, the policyholder, to call your insurance provider. If you do not feel comfortable doing this, we will do it for you… with you right there on the spot.
When the insurance adjuster comes to look at your roof, we will meet them at your home as your representative to help point out any damage or supporting evidence of weather-related damage to the adjuster.
We will prepare an estimate to replace your roof, and we will wait to see if you are awarded a replacement claim. If the claim is granted, and you choose to hire us, then and only then do you sign a job contract. It seems pretty simple, right? This is how we operate at Restoration Roofing.
We want you to trust us, and we never want to do anything that would make you feel otherwise.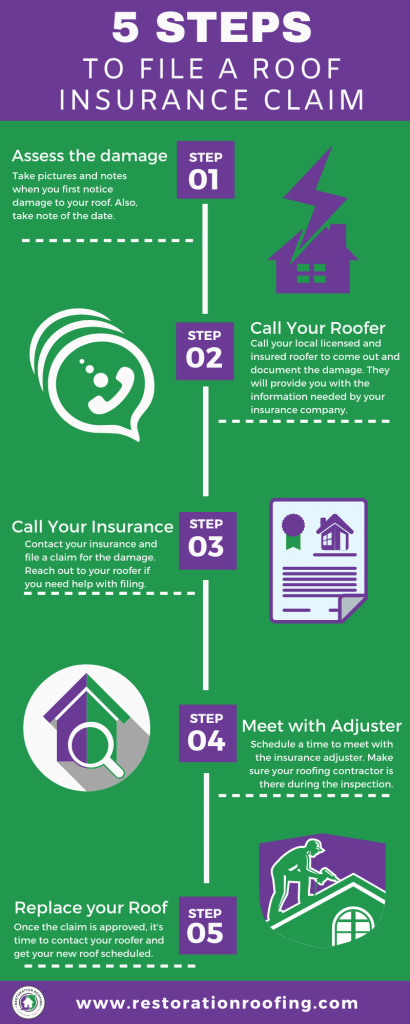 So what is a weather-related claim?
There are many weather-related events that can make you eligible for a roof replacement claim. The most prevalent weather-related roof damage in the Memphis area is wind damage.
How do I determine if I have wind damage?
Evidence of wind damage is the easiest to spot. You may notice that your shingles are "lifting", "folding-up", or are missing completely. Since straight-line wind usually only travels in one direction, you will probably notice on certain sides of your home where the damages are much worse.
These are the sides that directly faced the incoming wind. If this is happening, you can almost guarantee that the other sides will show the same result if and when high wind hits them, as well.
Let us give you an inspection. We don't want you to take a risk and get on your roof. If you notice this kind of damage from the ground, call us. We will go on your roof to conduct the inspection and give you an idea of what may be the cause of the roof failure.
Are there other weather events that can lead to a claim?
While not as prevalent in the Memphis area, hail is probably the second biggest cause of claims. Damage from hail is not as easy to spot from the ground. What hail can do is cause small "pits" or "craters" in the shingles that can lead to leaks in the future. These craters range from dime-size to half-dollar size and can be hard to spot from the ground. The team over at Restoration Roofing would love to get on your roof for you and inspect for hail damage, at no cost to you.
In short, at Restoration Roofing, we pride ourselves in our honesty, integrity, and professionalism. We want to help you take care of your roofing needs.