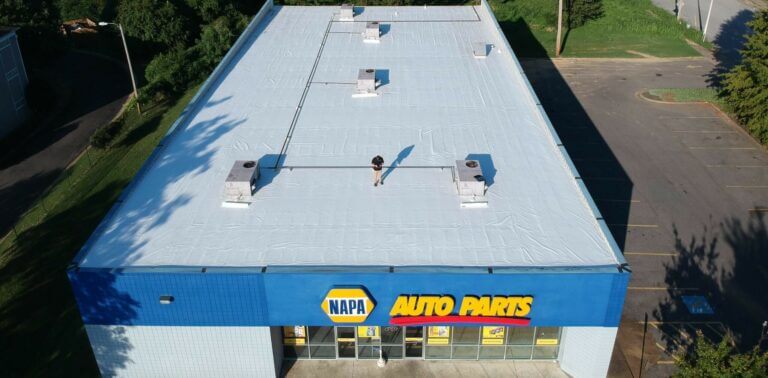 Just like residential properties, commercial properties need roofing services from time to time and our Memphis commercial roofing company is here to help. The age of the roof, severe weather, and other environmental factors can all take their toll, leaving your business with less protection overhead! Fortunately, commercial roofing services and roof repairs from Restoration Roofing can bring your roof back to its original condition. We also install new roofs for all types of businesses in the Memphis area.
Some of the roofing materials we work with include TPO, modified bitumen, silicon coatings and PVC roofs. We're a Certified DecTec Installer as well as a certified Mule-Hide Installer (TPO). And we offer our commercial roofing services to all types of Memphis businesses, from churches to warehouses, shopping centers, malls, and more — we can work with any commercial building to give our customer a more durable, high-quality roof.
Restoration Roofing is proud to serve Memphis businesses and organizations with quality commercial roof repairs and installations, and we'll go the extra mile to make sure the job is done right. Our many satisfied customers can attest to the fact that we start the job on time, work quickly and efficiently, and clean up after ourselves so you experience as little disruption as possible. We're also licensed and insured for your protection, safety and peace of mind.
A new roof can make a big difference in the appearance of your business as well as its energy efficiency. And even if your business, church, warehouse, or other commercial or industrial property doesn't need a completely new roof installed, we can perform roofing repairs and maintenance that help your roof offer better protection from whatever the Memphis weather decides to dish out.
Commercial Roof Coating
Our commercial roofing contractors are excited to offer a roofing coating service that is easy to install, prevents leaks and even cools the buildings temperature.
This coating consists of a polyurethane base coat followed by a silicone top coat. The polyurethane base coat gives the roof the ability to flex without having the seams separate and cause points of water entry. All of our customers say their roof leaks are stopped and this roof coating comes with a 15 year warranty!
Steps To Install Silicone Roofing
– Chemically clean and power wash the entire roof area to remove fats and dirt, leaves, mold, moss, and debris off of the existing deteriorated modbit roll roofing; All loose debris and materials on the roof must be removed prior to prep work.
– Seal all penetrations and seams on the existing roof with a Urethane fiber-reinforced coating – Seal all roof to wall transitions with Urethane fiber-reinforced coating
– Coat the roof with base layer of Urethane coating
– Allow base coating to dry fully before top coating is installed
– Install top coating of silicone on the entire roof area (white)
– Haul off any debris related to installing the coating project.
TPO VS Silicone Roofing
TPO (Thermoplastic Polyolefin) roofing and silicone top coat roofing are two different types of roofing systems used in commercial and industrial buildings. TPO roofing is a single-ply membrane made of a blend of plastic and rubber materials, which provides durability and weather resistance. On the other hand, silicone top coat roofing involves applying a layer of liquid silicone over an existing roof surface, which creates a seamless, waterproof barrier.
While both TPO and silicone top coat roofing offer excellent protection against the elements, TPO roofing tends to be more rigid and better suited for high-traffic areas, while silicone top coat roofing is more flexible and can adapt better to irregular surfaces. Additionally, silicone top coat roofing has the added benefit of being able to be applied over an existing roof, making it a cost-effective solution for roof restoration projects.
If you're considering a new roof installation for your commercial or industrial building in Memphis, TN, it's important to choose a reputable roofing contractor that offers quality services and workmanship. A skilled roofing contractor can help you determine which roofing system is best suited for your needs and budget, whether it's TPO roofing or a silicone top coat roofing solution. They can also provide expert installation services to ensure that your new roof is installed properly and will provide long-lasting protection for your building. With their expertise, you can rest assured that your roof installation will be completed to the highest standards of quality and workmanship, giving you peace of mind and protecting your investment for years to come.
Find Your Memphis Commercial Roofer
When it comes to finding a qualified Memphis commercial roofing company, it's important to consider their experience in the commercial roofing industry. Look for a reputable roofing contractor with a proven track record of success in the Memphis TN area. They should be skilled in all aspects of commercial roof replacement, roof repair, and maintenance. You'll want to ensure that they are licensed and insured, and have experience handling insurance claims. Investing in a quality roofing and replacement job is a smart decision for any business, so make sure the first roof repair company you choose has the expertise needed to complete the job to your satisfaction. They should be knowledgeable about the best roofing materials for your building and have a team of experienced professionals who are capable of installing them efficiently and effectively.
Call Restoration Roofing today for details and a quote from our Memphis commercial roofing company! You can also use our online customer contact form to request a quote or more information. We look forward to serving you.