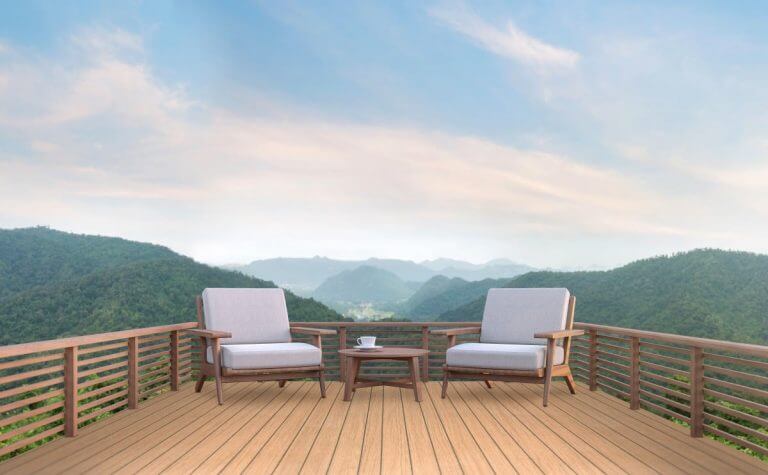 Our name may be Restoration Roofing, but we do more than just roofing. We are also one of the only Memphis installers of a material called Dec Tec.
The warm Memphis weather calls for good times spent outside. Most homeowners go out to their deck to enjoy a barbecue cookout and entertain friends and family. It's often one of the most used areas in a home, meaning it needs to withstand the outside elements as well as day to day wear and tear.
You've probably experienced issues with patio maintenance from yearly wood decking repair to outdoor coatings flaking and cracking.
So what's the solution? Our answer: Dec Tec.
What is Dec Tec?
Dec Tec is a single-ply vinyl decking membrane used on patios, balconies, boathouses and more. It is a low maintenance, anti-mold, non-cracking, high-end surface material.
The high-end material creates waterproof lining for you outdoor living space surfaces. With 13 different design options, Dec Tec can complement anyone's design style or space aesthetic.
How Membrane Waterproofing Systems Can Save Your Deck
Spending time on decks is one of the simple pleasures of life. Moisture is the enemy of decks, and the effects of water damage can make your deck old before its time. Too much standing water can make the deck warp, split or rot. We offer deck waterproofing membranes as a solution to protect your balcony or deck from rain, sleet, snow, ice, humidity and the occasional spill of liquids.
Signs Your Deck Needs a Waterproofing Membrane
You may need a waterproof membrane on your deck if it has loose edges, warping or fading. After it rains or after the snow melts, check the deck. It may benefit from our vinyl deck covering if water pools on the deck's surface.
Your deck will also benefit from our quality waterproofing systems if the melting rain or snow flows toward your house instead of away from it. If your deck is warping, its bridge deck waterproofing may be failing and in need of replacement with our membrane systems.
Benefits of Membrane Systems Like Dec Tec
Dec Tec's membrane is low maintenance. This durable material offers year-round protection for your deck. It cures in hours, and it can be applied at temperatures of 34 degrees or higher. It also features many appealing colors and finishes to coordinate with your home. It can be applied to many parts of the deck, including curved spindles and railings. If you've already had some repairs done to your deck, it covers the wood or vinyl with ease.
The deck condition surface preparation for Dec Tec application is simple. The deck must be clean and dry for our adhesive to bond with the deck. While the adhesive is wet, we apply the waterproofing membrane. This ensures that the membrane and adhesive form a strong, long-lasting bond. 
Once all the pieces of the membrane are in place, we heat-weld them at all the seams and at their intersections with other materials, such as flashing. This creates a fully waterproof system to protect your deck or balcony from moisture.
If superior protection against water damage sounds like a good choice for your deck, contact Restoration Roofing today to learn more about Dec Tec membrane waterproofing systems.