Your Local Collierville TN Roofer
Why choose Restoration Roofing as your trusted Collierville roofing contractor?
First and foremost, we are one of the few local companies that is skilled in all roofing projects from new installation and repairs to skylights and gutters.
We have the expertise and knowledge to handle roofs on homes from the smallest roof to large custom estates. Rest assured, whether you have a leak in your home or need a complete roof replacement due to damage caused by severe weather such as hail, wind or fire, we have the right tools and strategies to repair or replace your roof…and we stand behind our work.
Check out this new roof we did for Café Piazza on the Collierville Square.
Collierville Roof, Skylight and Gutter Services
While roofing may be in our name, we also install skylights, gutters, and gutter guards. We provide these roofing services for both commercial and residential customers.
Skylights
Skylights are a great way to add natural light to your home. Used in the right way and in the right rooms, they can light up areas that would otherwise be dark and dreary. However, installing a skylight yourself is not recommended as it is easy to make mistakes that will cause leaks or other problems. From choosing the right type of skylight for your needs to determining the best size and location for the installation, there are many things to consider when planning a new skylight.
To ensure a high-quality result, it is best to hire a professional roofing contractor with experience in skylight installations. A Collierville skylight specialist at Restoration Roofing will be able to help you choose a skylight that meets your budget and fits with the style of your home as well as determine the best location for your new skylight(s). Our technicians have extensive experience installing Velux® brand skylights and can assist you in choosing the right model(s) for your needs and budget.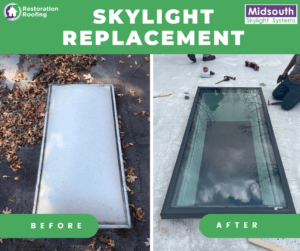 Gutters
Gutter installation is a key part of your exterior home maintenance routine. Gutters help guide rainwater away from your roof and the foundation of your home, helping to prevent damage to your house and landscaping.
If you are looking for the right gutter installation expert in Collierville, Restoration Roofing is your answer. We can provide you with a wide range of services that will fit your needs.
Our experts have vast experience in gutter installation and replacement, which will ensure that your new gutters will last for many years to come. Whether you need a new set of gutters or a replacement set, we offer a wide range of options to meet any budget.
We take pride in our work and guarantee that you will be completely satisfied with the final result. Our team works hard to ensure that every project is completed on time and within budget. When it comes to gutter installation in Collierville, it's time to call the professionals.
Gutter Guards
At Restoration Roofing, we understand that keeping your gutters clean and free from debris is a crucial part of maintaining your home. That's why we're proud to offer the installation of Raindrop Gutter Guards, a leading product in the industry, to our Collierville, TN customers. These top-of-the-line gutter guards are designed to keep all types of debris out of your gutters, from leaves and twigs to smaller particles like pine needles and shingle grit. Not only do Raindrop Gutter Guards prevent clogging, but they also ensure efficient water flow even during the heaviest of rains.
By investing in these durable, high-performing gutter guards, you can reduce the need for frequent gutter cleaning and prevent potential damage to your property due to water overflow. Trust Restoration Roofing, your Collierville, TN roofer, to provide expert installation and help you enhance the durability and performance of your gutter system.
Residential Roofing Replacements
Choosing a local roofing company for your home is an important decision. You want to choose a company that has integrity and is committed to excellence. At Restoration Roofing, we are committed to providing our customers with honest and reliable service and quality craftsmanship. We take pride in helping Collierville homeowners get the most out of their roofing investment.
Our experienced crew is trained in the latest techniques and uses advanced equipment, so you can be confident that we will complete your project on-time and within budget.
Roof repairs should never be taken lightly. A damaged roof is not only unsightly, but it also allows pests, mold, water damage and other problems into your home. In addition, a damaged roof can lead to higher energy bills as air leaks through gaps and cracks in the structure.
We offer free estimates for all of our services, including:
-Residential Roofs
-Commercial Roofs
-Metal Roofs
-Shingle Roofs
-Skylight Repair and Installation
-Gutter Repair and Installation
Commercial Roofing Services in Collierville
Restoration Roofing can also help if you own an office space, apartment complex, retail location or other commercial building in the Collierville area. From a minor repair to an entirely new commercial roof, our team offers the same high-end service.
We offer shingle roofing, metal roofing, TPO roofing options. Just like with residential roofing, it's important to have routine inspections of your building. Whether you are aware of them or not, commercial buildings can have areas of roof damage that become less functional over time and lead to leaks. If you are concerned with the condition of the roof on your Collierville building, then give us a call for a complimentary inspection.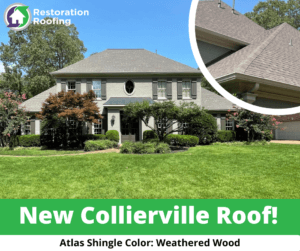 How To Find A Reputable Collierville Roofer
There are many roofing companies in Collierville available that provide quality service to their clients. It is easy to get overwhelmed when trying to choose a reputable roofer for your big remodeling project. To ensure you find a reputable local roofer there are plenty of things you can do to assist in your decision-making process. These tips will hopefully lead you through the whole process more easily and with more confidence.
-Find a roofer that is licensed and insured
-Never cut corners in the interest of saving money
-Research the roofer through your local Better Business Bureau
-Talk to neighbors, co-workers or realtors, and ask for referrals
-Search social media and Google for reviews
-Learn more about the roofing business and don't be afraid to ask questions
Questions to Ask Your Collierville Tn Roofer
Choosing the right roofing contractor for your Collierville TN home can make all the difference in the success of your roofing project. Here are some key questions to ask a potential Collierville TN roofer to ensure quality and reliability:
How long have you been in the roofing business? Experience is crucial in the roofing industry. Companies with a long history, like Restoration Roofing, have a proven track record of delivering quality craftsmanship.
Are you licensed and insured? A legitimate roofing contractor should be able to provide proof of insurance and licensing. This safeguards you against any potential liabilities during the roofing project.
Do you offer both residential and commercial roofing services? Some companies only specialize in one type of roofing. Knowing the versatility of your contractor is essential, especially if you have different types of properties like an apartment complex or a house.
What roofing services do you provide? A good Collierville TN roofer will offer a wide range of services including new installation, roof repair, roof inspections, and gutter services.
What types of roofs do you install or repair? Whether you have a hail storm damage or need a new roof, it's essential to know that your contractor is capable of handling the specific roofing work you need, whether it's commercial roofing, residential roofing, or a particular material like asphalt shingles or metal roofs.
Can you provide an estimate for my roofing project? Reputable roofing contractors should provide a detailed estimate that outlines the cost of materials, labor, and any other expenses related to your roofing project.
What warranties do you offer? A new roof is a significant investment. Ask if the roofer provides any warranties on their workmanship or the roofing materials they use. This gives you peace of mind knowing that your investment is protected.
By asking these questions, you can find a reliable Collierville TN roofing company that provides outstanding service, expert knowledge, and excellent roofing solutions tailored to your needs.
Why Choose Restoration Roofing as Your Collierville Roofer
From residential roofing in Collierville to commercial roofing, our roofing experts are the ones to call! Not only do we have the experience to give you a long-lasting and aesthetically pleasing roof, we are also fully licensed, bonded, and insured. Plus, with over 460 5-star Google reviews you can see why people have loved working with us.
Our partnership with Atlas Roofing means that we use the top-quality roofing products in the industry. If you'd like to see the benefits of having an Atlas roof on your home, contact us for a complimentary inspection.