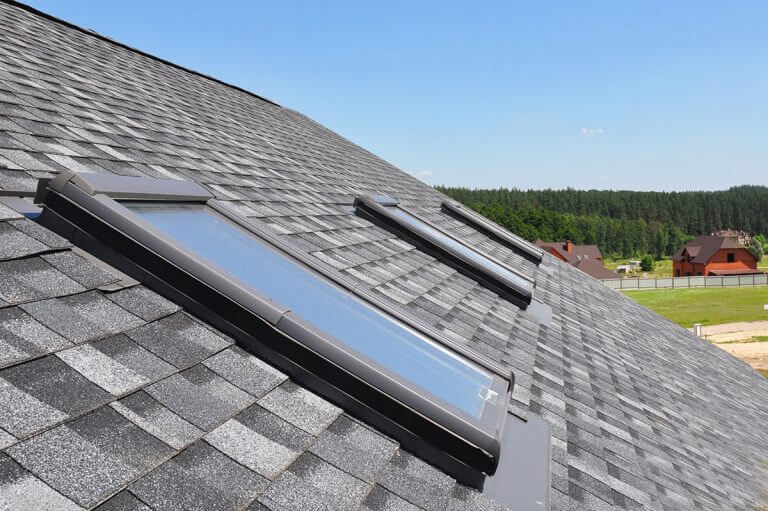 Skylight Installation in Memphis, TN
Many people love to let some light into their homes since it can bring some heat into a room and even make it look nicer. Our Memphis skylight company can add skylights to your home to transform your home by letting in natural light and fresh air. Skylights in the home improve your overall well-being, decrease your dependence on electricity and reinvent a space. Due to this, many people and businesses will install skylights into their buildings. 
The Purpose of Skylights
A fixed skylight with insulated glass has multiple purposes that people may initially overlook. For example, skylights are an excellent way to add more style to your room while allowing you to light it up as needed. This way, people can stand in the light for a bit of extra illumination or heat, or they can use the light while they read.
Skylights stand out in Memphis due to the naturally sunny days during the summer. You can rest assured knowing that the sun will shine bright, so you can get the most use out of your skylight. On top of this, you can still get a bit of light in your room during the evening from the moon.
Residential Products
Mid-South Skylight Systems specializes in installing new residential VELUX skylights quickly and hassle free, so you can start enjoying your new lighter, brighter and more energy-efficient home. 
Mid-South Skylight Systems specializes in installing new residential VELUX skylights quickly and hassle free, so you can start enjoying your new lighter, brighter and more energy-efficient home. We offer a range of skylight options including the following:
-Solar Powered "Fresh Air" Skylights: Open and close your new skylights with the power of the sun. Fitted with a solar panel, these skylights collect the sun's energy and uses it to open and close the skylight with a touch of a button. These can also sense when rain is coming and will close on their own to prevent water from entering your Memphis home.
-Electric "Fresh Air" Skylights: This skylight uses your home's electricity to open and close. Equipped with a concealed battery that operates the skylight with a remote control, this makes for an excellent choice for an easy to use skylight.
-Manual "Fresh Air" Skylights: For skylights within reach, the Manual Fresh Air skylights allow you to easily open and close them with just the touch of a handle.
-Fixed Skylights: The fixed skylight is designed to only bring in natural light into your space. These make for great options for spaces like sunrooms and porches.
-Flat Roof Skylights: For flat or low-pitched roofs, we can install these flat roof skylights that feature a curved glass allowing water to disperse and let you enjoy uninterrupted natural light.
-SkyMax: Need a large custom size skylight? No problem! These give you flexibility on size up to 10 feet in length!
-Sun Tunnels: Sun tunnels add light into a home through specifically designed tunnels that pass from the roof to ceiling. These are a simple install and a cost effective way to enjoy all the benefits skylight have to offer. These are perfect for a smaller space in your Memphis home, including hallways, laundry rooms and closets.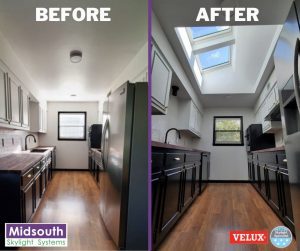 VELUX No-Leak Warranty
Skylights tend to get a bad reputation. That's why at Mid-South Skylights our team has undergone the most rigorous training programs that VELUX has to offer. Our commitment to your project does not end once your skylight is installed. VELUX's deck mounted skylights come with a 10-year no leak warranty that covers proper installation of skylights and appropriate flashing installation against leaks. Our team is committed to installing skylights using only the top quality products – that's why we only use VELUX skylights.
When to Replace Your Memphis Skylight
Have you been wondering if it's time to replace your Memphis skylight? Our skylight installers suggest replacing your skylights when they start to show signs of wear and tear or if they are not functioning properly.
These signs include:
Ceiling Stains: A leak coming from your skylight is something that should be addressed immediately. Any leak into your home will only result in expensive repairs or constant maintenance to your roof.
Cracked: Cracks in your skylight are a sign that it's time for it to be replaced. These can be caused by hail, branches falling, extreme weather or old age. Our team has seen a number of old plastic skylights that are cracked and need to be replaced. Luckily, our VELUX skylights are made with durable and long lasting glass so homeowners don't need to worry about these roofing issues.
Roofing Issues: If you have an old roof and it's time to replace your shingles, then it's probably time to replace the skylights as well.
If you are looking to replace your skylights, it is best to hire an excellent roofing contractor who specializes in new skylight installations. Our Memphis, Tennessee professional skylight installers can keep you covered with the top quality products and ensure that you have natural light for years to come.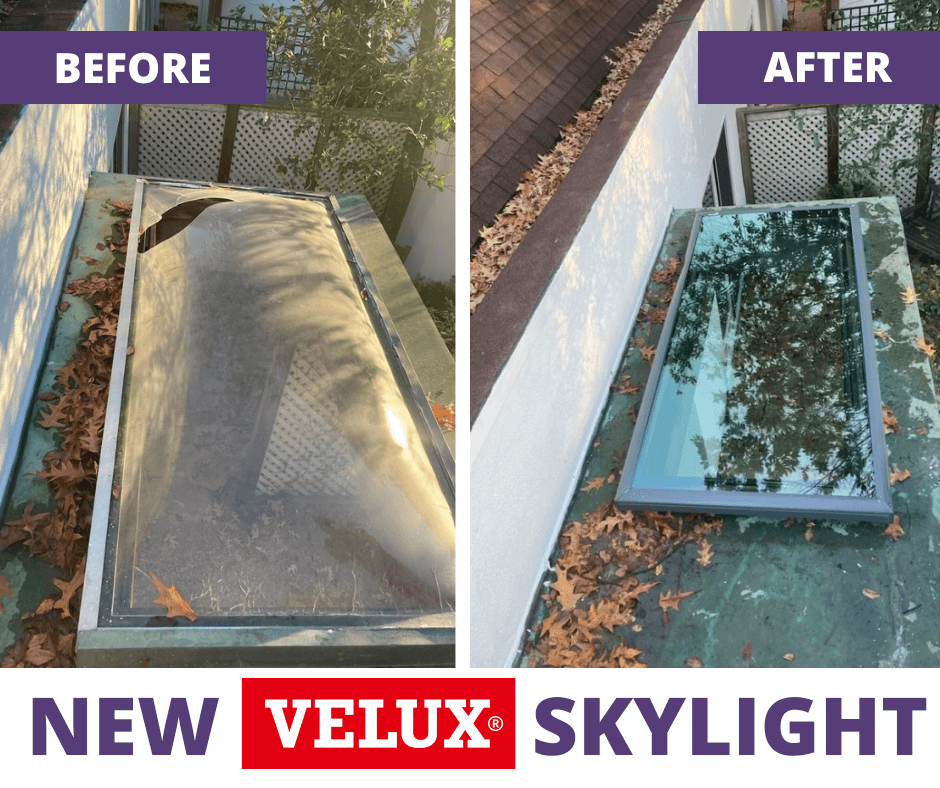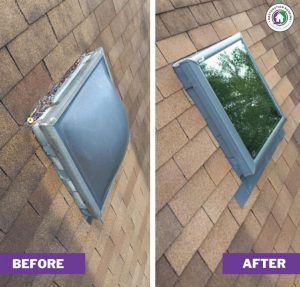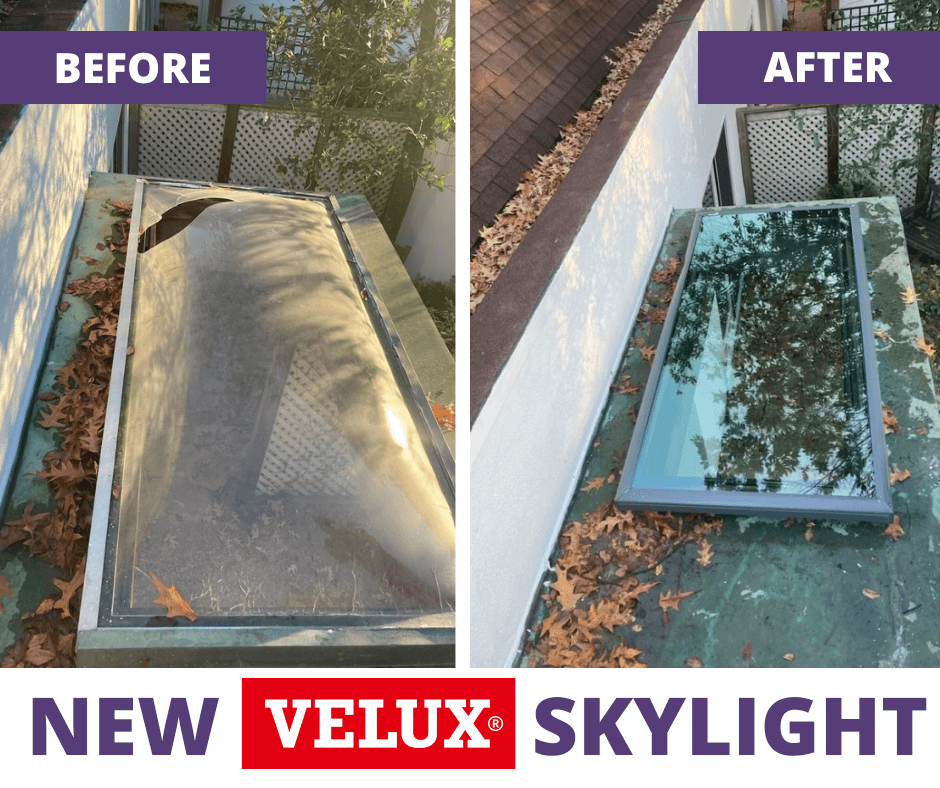 Commercial Products
Mid-South Skylight Systems specializes in commercial skylight installation, providing optimal lighting and fresh air to enhance your building's architectural design and performance.
Our Memphis skylight company will meet all of your needs when it comes to a professional installation in the Memphis area, working around your hours to ensure that we handle things at a convenient time for you.
We can even add other installations to make it more convenient for you. For example, we can add blinds to your skylights so you can block out the light whenever you want to keep the room dark. This way, you can have complete control over the lighting in your rooms to make them as comfortable as possible.
To learn more about transforming your home with skylights visit: https://skylightspecialist.com/mid-south-skylight-systems
Your Memphis Skylight Company
Mid-South Skylight Systems is a trusted provider of natural light solutions for residential and commercial properties in the greater Memphis area. With a focus on energy efficiency and customer satisfaction, our team of skylight installers and roofing contractors are dedicated to providing high-quality products and services to meet all of your roofing needs.
We specialize in skylight installation, repair, and replacement, as well as a wide range of other roofing services such as roof repair, new roof installation, and commercial roofing. Whether you're looking to add more light to a room, improve the energy efficiency of your home, or simply enhance the look of your property, we have the expertise and experience to get the job done right.
Our roofing company is fully licensed and insured, and we use only the best materials and products from top manufacturers like Velux. We also offer competitive pricing, free estimates, and some of the best warranties in the business.
If you're in need of skylight installation, repair, or other roofing services, don't hesitate to contact our Memphis skylight company today. We'll provide you with a free estimate and help you choose the best options to meet your needs and budget. With our commitment to quality work and customer satisfaction, you can trust us to do an amazing job on your next project.