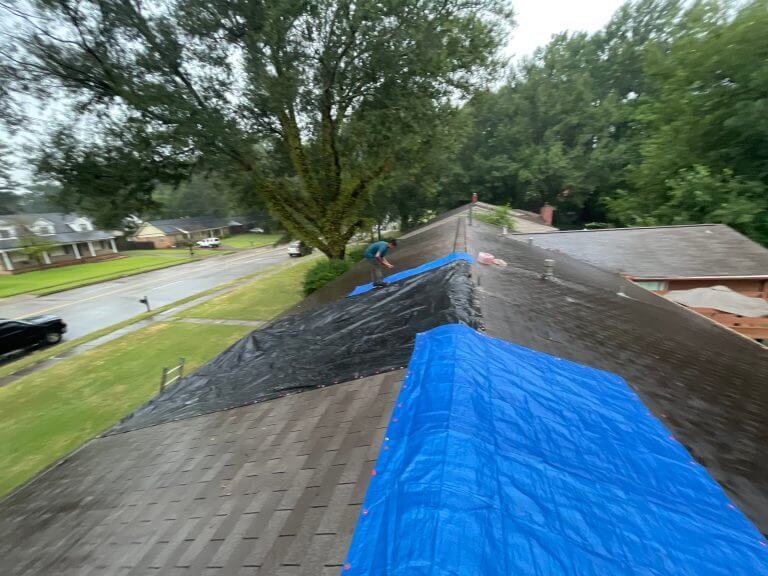 Emergency Roof Tarping in Memphis TN
Roof leaks may start as soon as a storm hits your area. These leaks can lead to serious issues in your home and it's best to take action as soon as possible. The best and most affordable temporary solution for this situation is a tarp installed by a professional roofing company. At Restoration Roofing our team is able to provide emergency tarping and immediate coverage for your Memphis home.
During high winds and heavy rain, it's not always safe for our roofing experts to make any major repairs. In the interim, a tarp will prevent any continued damage to your home until it can be thoroughly inspected and repaired. Our team can provide you with large, strong tarps that are secured over the damaged area and nailed firmly into the roof decking.
Since getting on your roof during a storm can be very dangerous, we recommend only having a certified roofing professional handle any emergency services. Our trained roofing contractors will be able to stop the immediate leak and prevent any further damage to the home while installing the tarp.
Consequences of Avoiding Emergency Roof Tarping
Due to the amount of high winds and heavy rain that Memphis, TN gets every year, we do not recommend letting your roof remain unprotected. Without a layer of protection between your home and the elements, your home is at risk of further damage. What starts as a small leak can lead to damaged ceilings, ruined drywall and flooded flooring.
Tarping Your Roof For Insurance Claims
Your insurance company will require you to take immediate action on any roof damage caused by a storm if you wish to file a claim. If you plan to file an insurance claim, then emergency roof tarping is recommended to prevent any further storm damage. Insurance companies will require proof that temporary roof repairs have been made until real repairs can be made by a professional roofing company. While we cannot always guarantee that your insurance company will cover your roof tarping, most companies do cover this service under standard policies.
Call Restoration Roofing for Emergency Roofing Services.
If you are struggling with water leakage due to a hole in your roof, get help immediately. Call Restoration Roofing for the best emergency roof tarping in Memphis, TN. Our company has been providing topnotch roofing services for years, and have established ourselves as one of the most reliable roof repair service providers in this area. Call us at (901) 854-3402 for your emergency roof tarping or to schedule an appointment to meet with one of our roofing specialists.