The beautiful town of Oxford, Mississippi, is known for it's small town charm, exceptional culinary experiences and the University of Mississippi. If you're lucky enough to own a home or commercial property there, we are sure you want to keep it in great condition.
At Restoration Roofing we are here to do just that. We are your top local roofing contractors that have the experience and reputation to help keep your roof, gutters, and skylights in the best condition.
Residential Gutter Repair and Replacement
From storm damage to minor repairs, your gutters can develop many issues over time. However, there's no need for you to worry. Our experienced roofing specialists have seen it all and have the skill and quality materials to get your home back to perfect condition.
Our team can install top quality seamless gutters, custom-made to fit your home. We also provide top-of-the-line gutter guards that are designed to keep debris from entering and clogging your gutter system. These RainDrop Gutter Guards prevent homeowners from having to constantly clean your gutters and prevent expensive water damage.
Oxford, MS Residential Roofing Installation
What if the roof is beyond repair? In some cases, continued repairs will cost you more in the long run and in those cases, we will discuss our residential roofing services with you.
Our goal is to provide you with a durable and quality roofing system. We have made that possible by installing Atlas Shingles for our homeowners. Atlas Roofing has worked for decades to create innovative, quality roofing projects and we are proud to be a professional installer.
Atlas designer shingles are built with Scotchgard protector to help prevent black streaks caused by algae, keeping your roof looking beautiful for years. They also are designed to withstand nature's extremes with their Core4 Technology. And to ensure that you have no worries after installation, we offer some of the best warranty coverage as an Atlas Pro installer.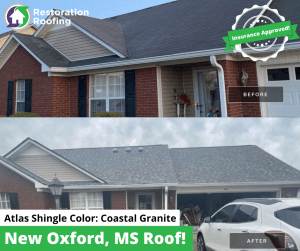 Commercial Roofing Services in Oxford
Restoration Roofing can also help if you own an office space, apartment complex, retail location or other commercial building in the Oxford, MS area. From a minor repair to an entirely new commercial roof, our team offers the same high-end service.
We offer shingle roofing, metal roofing, TPO roofing options. Plus, our team can install roof coatings on your commercial roof. These roof coatings extend the life of your roof, seal leaks, and keep your commercial building cooling with its white coating.
Just like with residential roofing, it's important to have routine inspections of your building. Whether you are aware of them or not, commercial buildings can have areas of roof damage that become less functional over time and lead to leaks. If you are concerned with the condition of the roof on your Oxford building, then give us a call for a complimentary inspection.
Choosing an Oxford, MS Roofing Contractor
Selecting the right roofing company that offers roofing and gutter services can be a daunting task. When selecting a roofing contractor, you must look for certain qualities:
1) A reputable company that has been in business for several years. This demonstrates that they have been able to build a solid reputation for themselves. If the company is new or does not have an established history, it is best to avoid them as they may not be able to provide quality workmanship and customer service.
2) A thorough knowledge of their craft. A roofing contractor should be able to explain what they are doing when working on your home's roof. They should also be able to explain how your roof works and what repairs are needed. They should also be able to offer advice on how to maintain your roof so that it will last longer before needing repairs again.
3) Good customer service skills; this includes being able to listen attentively, respond quickly, and give clear explanations about everything related to your project including pricing and timelines.
Working with our Roofing Project Managers
Each of our Oxford, MS project managers is dedicated to providing you with the very best roofing experience. They are committed to:
Providing you with a full digital roof, gutter or skylight report during their inspection.
Educating you on the next steps for repair or installation.
Working to keep your project on budget.
Ensuring your project is completed on time.
Using the highest quality materials.
Protecting your property from damage during your project.
Confirming that your installation or repair is done correctly.
Why Choose Restoration Roofing?
From residential roofing in Oxford to commercial roofing, our roofing experts are the ones to call! Not only do we have the experience to give you a long-lasting and aesthetically pleasing roof, we are also fully licensed, bonded, and insured.
Our partnership with Atlas Roofing means that we use the top-quality roofing products in the industry. If you'd like to see the benefits of having an Atlas roof on your home, contact us for a complimentary inspection. Give us a call at 901-854-3402 or fill out our Contact Us form and we will reach out to you with our next available inspection.