Roofing Contractor Servicing Germantown, TN and Surrounding Area
The Germantown community is a beautiful suburb of Memphis. If you're lucky enough to own a home or commercial property there, we are sure you want to keep it in great condition. 
At Restoration Roofing we are here to do just that. We are your top local roofing contractors that have the experience and reputation to help keep your roof and gutters in the best condition. 
Residential Roofing and Gutter Repair
From storm damage to minor roof repairs, your Germantown roof can develop many issues over time. However, there's no need for you to worry. Our experienced roofing specialists have seen it all and have the skill and quality materials to get your home back to perfect condition. 
Not every home we inspect needs a new roof. When our project managers inspect your roof, they will provide you with a full digital video report of your roof. They will share their findings and discuss the best course of action to prevent any further damage from occurring on your home. 
A roof inspection is a comprehensive process that involves several key steps to ensure that every aspect of your roof is evaluated for its condition and performance. Here's a look at what you can typically expect during a roof inspection:
Initial Visual Inspection: This is where the inspector will check the overall appearance of the roof, looking for obvious signs of damage or wear.
Interior Inspection: The inspector will check the attic space for signs of leaks, water damage, or insufficient insulation.
Exterior Inspection: On the roof itself, the inspector will check for missing, damaged, or worn shingles or tiles. They'll also look for damaged flashing around vents, chimneys, and other roof protrusions.
Gutter Inspection: The inspector will examine the gutters for proper installation and look for any signs of damage or blockage that could lead to water back up and roof damage.
Structural Inspection: This step involves checking the structural integrity of the roof, looking for any signs of sagging or other structural issues.
Ventilation Inspection: Proper ventilation is crucial for the lifespan of a roof. The inspector will check for adequate ventilation and suggest improvements if needed.
Detailed Report: After the inspection, you will receive a detailed report of the inspector's findings, including any identified issues and recommended repairs or replacements.
By following these steps, a roof inspection provides a comprehensive overview of the condition of your roof and helps identify any potential issues before they turn into major problems.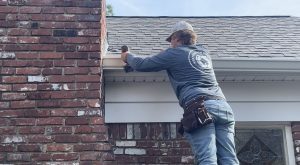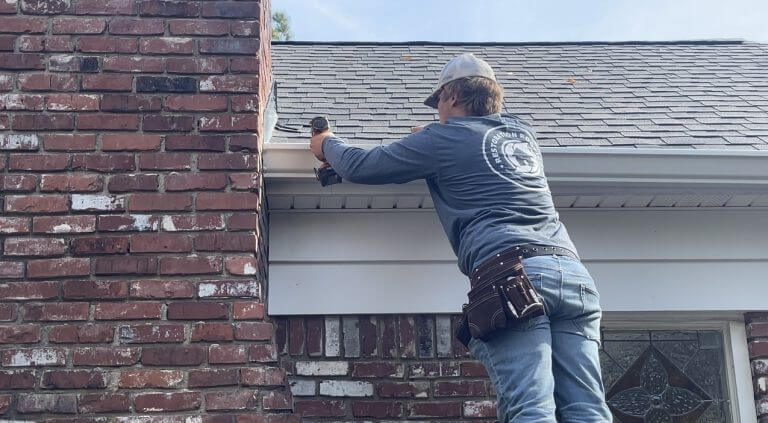 Germantown Residential Roofing Installation
What if the roof is beyond repair? In some cases, continued repairs will cost you more in the long run and in those cases, we will discuss our residential roofing services with you. 
Our goal is to provide you with a durable and quality roofing system. We have made that possible by installing Atlas Shingles for our homeowners. Atlas Roofing has worked for decades to create innovative, quality roofing projects and we are proud to be a professional installer. 
Atlas designer shingles are built with Scotchgard protector to help prevent black streaks caused by algae, keeping your roof looking beautiful for years. They also are designed to withstand nature's extremes with their Core4 Technology. And to ensure that you have no worries after installation, we offer some of the best warranty coverage as an Atlas Pro installer.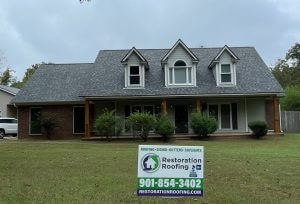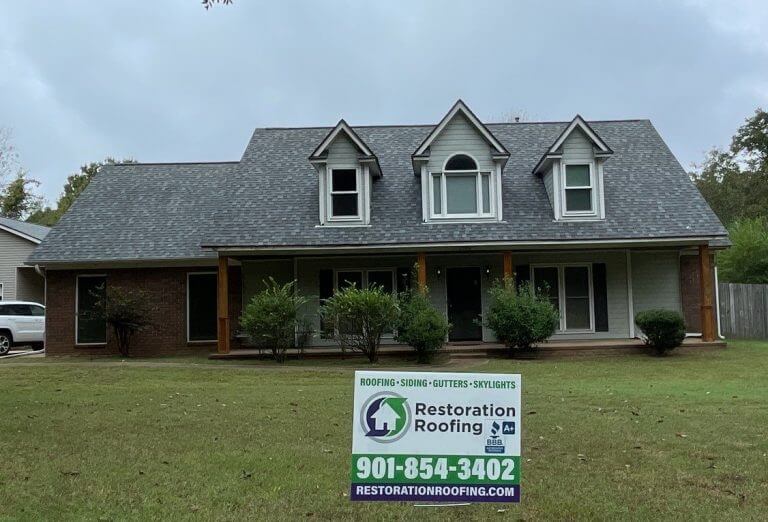 Commercial Roofing Services in Germantown
Restoration Roofing can also help if you own an office space, apartment complex, retail location or other commercial building in the Germantown area. From a minor repair to an entirely new commercial roof, our team offers the same high-end service. 
We offer shingle roofing, metal roofing, TPO roofing options. Just like with residential roofing, it's important to have routine inspections of your building. Whether you are aware of them or not, commercial buildings can have areas of roof damage that become less functional over time and lead to leaks. If you are concerned with the condition of the roof on your Germantown building, then give us a call for a complimentary inspection. 
Germantown, TN Roofer for Storm Damage
When your home is affected by storm damage in Germantown, TN, it's essential to choose a professional roofer to assess and address the damage quickly and efficiently. Storms can cause significant damage to your roof, from loose or missing shingles to major structural damage. This can potentially lead to other issues, like leaks or water damage, if not promptly repaired.
Choosing a local Germantown roofer ensures that you have a team who understands the specific weather patterns and building codes of your area. They will be able to provide a thorough inspection, identify all storm-related damages, and suggest the best course of action to restore the integrity of your roof.
Moreover, an experienced roofer like Restoration Roofing can also assist with insurance claims, helping you navigate through the process to ensure you get the coverage you deserve. Remember, quick action after a storm can prevent minor damages from becoming major, more costly repairs. Protect your home and peace of mind by trusting a professional Germantown roofer with your storm damage repair needs.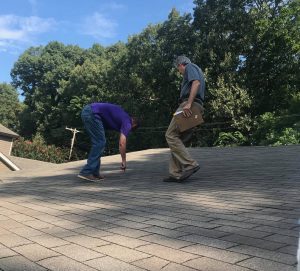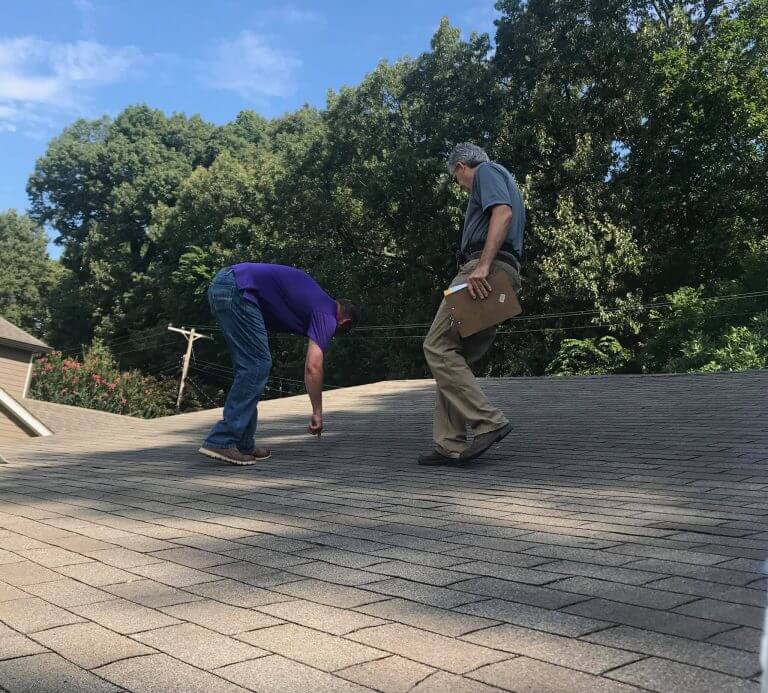 Working with our Roofing Project Managers
Each of our Germantown project managers is dedicated to providing you with the very best roofing experience. They are committed to:
Providing you with a full digital roof, gutter or skylight report during their inspection.

Educating you on the next steps for repair or installation.

Working to keep your project on budget.

Ensuring your project is completed on time.

Using the highest quality materials.

Protecting your property from damage during your project. 

Confirming that your installation or repair is done correctly.
When to Call a Germantown TN Roofer
Knowing when to call a Germantown, TN roofer can save you from dealing with significant damage and costly repairs in the long run. Reach out to hire a professional roofer when you notice the following issues with your roofing, gutters, or skylights:
Roofing: Damaged or missing shingles, leaks or water stains inside the house, noticeable sagging of the roof, or growth of mold and moss on the roof surface.
Gutters: Water not draining properly or overflowing during rain, visible cracks or splits, sagging gutters pulling away from the house, or the presence of rust or a buildup of mold and mildew.
Skylights: Leaks or condensation forming on the interior of the skylight, visible cracks or chips in the glass, discolored or foggy glass that obstructs the view, or issues with the skylight not opening or closing properly.
Storm Damage: In the aftermath of a severe storm, even if there's no visible damage, it's a good idea to get your roof inspected to ensure there's no hidden issues.
Preventative: It's recommended to have a professional roof inspection at least once a year, or more if your roof is older. This proactive approach can help catch any small problems before they become larger, more expensive issues.
Remember, early detection of these problems can significantly reduce the cost and extent of repairs. A reputable Germantown roofer can provide a thorough inspection and suitable solutions for any issues found.
Questions for Your Germantown, TN Roofer
When hiring a Germantown TN roofing company, it's important to ask the right questions to ensure you're getting the best service for your needs. Here are some key questions to consider:
Credentials: Ask for proof of licensing and insurance. Do they have the necessary permits to work in Germantown, TN?
Experience: How long has the company been in the roofing business? What type of roofs do they specialize in?
References: Can they provide references or testimonials from past clients in Germantown?
Project specifics: Ask for a detailed proposal or estimate. Does it include the cost of materials, labor, and any additional fees?
Guarantee: What warranties or guarantees do they offer on their workmanship and the materials they use?
Timeline: What is the estimated timeframe for the project? How will they handle any delays or unforeseen problems?
Communication: How will they keep you informed about the progress of the work? Who should you contact with any questions or concerns?
By asking these questions, you can make sure you're hiring a reliable and trustworthy roofing company for your project in Germantown, TN.
Why Choose Restoration Roofing?
From residential roofing in Germantown to commercial roofing, our roofing experts are the ones to call! Not only do we have the experience to give you a long-lasting and aesthetically pleasing roof, we are also fully licensed, bonded, and insured. To see examples of our roofing, gutter, and skylight work, check out our Galley Page!
Our partnership with Atlas Roofing means that we use the top-quality roofing products in the industry. If you'd like to see the benefits of having an Atlas roof on your home, contact us for a complimentary inspection. 
Give us a call at 901-854-3402 or fill out our Contact Us form and we will reach out to you with our next available inspection. Make sure to follow us on Facebook and Instagram for more tips on finding the best roofing contractor for you.