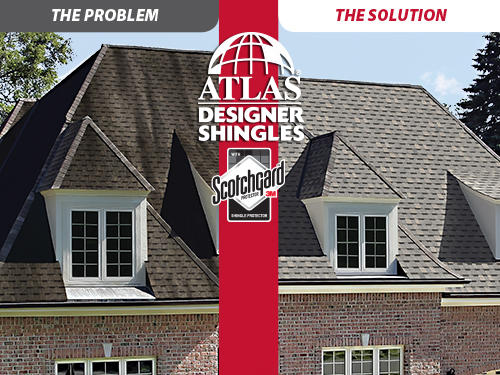 Why We Choose to Install Atlas Shingles
Feb 26 2021
Are you in the market for a new roof? Depending on what stage of the process you are in, you've probably realized that there are a ton of shingle options out there.
So now not only are you trying to decide between contractors, but you are having to decide between the different shingle brands they install. The process can be overwhelming to say the least so to help narrow down the decision, we want to share why we exclusively install Atlas Shingles for our customers.
Algae Prevention
As a homeowner, do you want to pay thousands of dollars on a roof only to have it start turning black with Algae in a few years?
Homes in the Mid-South are plagued with a serious issue: algae growth on roofs. Algae creates black streaks on shingles and can greatly reduce a home's curb appeal. Once the algae has formed, the only way to remove the black streaks is to pay thousands of dollars a year to get your roof washed.
Luckily for us, Atlas designed a product to address this issue. Their shingles utilize 3M Scotchgard technology to keep roofs looking beautiful for a very long time. You may be familiar with 3M Scotchgard being used as a stain repellent for your furniture, but now they partnered with Atlas to create an algae resistant shingle. And the best part is, they back it up with an industry leading warranty against algae growth.
As an installer, this gives us the peace of mind knowing that roofs installed years ago will still look like it did the day we installed it.
Innovative Technology
Atlas stands out above other manufacturers in how they are always finding ways to improve the products they offer. All of these huge advancements were made within the last 10 years.
1. Atlas is the only company to have a double sealant strip on their architectural and designer shingles. This means double the protection against high winds.
2. Atlas also has high-definition colors that offer you a wider variety of shingle patterns, and the best part is, they don't charge more for the high-definition colors.
3. Atlas is the only company to offer Core4 Technology in their class 4 impact resistant shingle. This makes their class 4 shingles the best on the market.
4. Atlas has the largest nail strip on their shingles. This eliminates installation error that eventually causes shingles to slide off roofs.
5. With Atlas' recent introduction of their ridge vent models, they are truly taking time to address issues with ventilation that other companies fail to see.
While all of this sounds very expensive, Atlas has always been competitively priced which makes them the best value for homeowners.
Warranties
There's a common but unfortunate saying in this industry: shingle warranties are worth about as much as the paper they are written on.
That has never been the case with Atlas. While other companies are making warranties with fine print that are full of exceptions, Atlas has made theirs easy to understand. As a homeowner, you can easily read an Atlas warranty and quickly determine what it covered and what is not.
American Made and Family Owned
I have been in a family business my whole life and I value what being a family business means. But to homeowners, this means much more. This means that they are naturally going to be more trustworthy because there is a real name behind the brand. And the fact that they are American made, supporting American jobs and American families, means more now than it ever has.
At Restoration Roofing we have the experience and expertise to help you install the highest quality roof Atlas has to offer. To get in touch with one of our project managers, give us a call at 901-854-3402 or click here to set up a free inspection. We offer free inspections that are easy and completed quickly. Make sure to follow us on Facebook and Instagram for more tips on taking care of your roof.