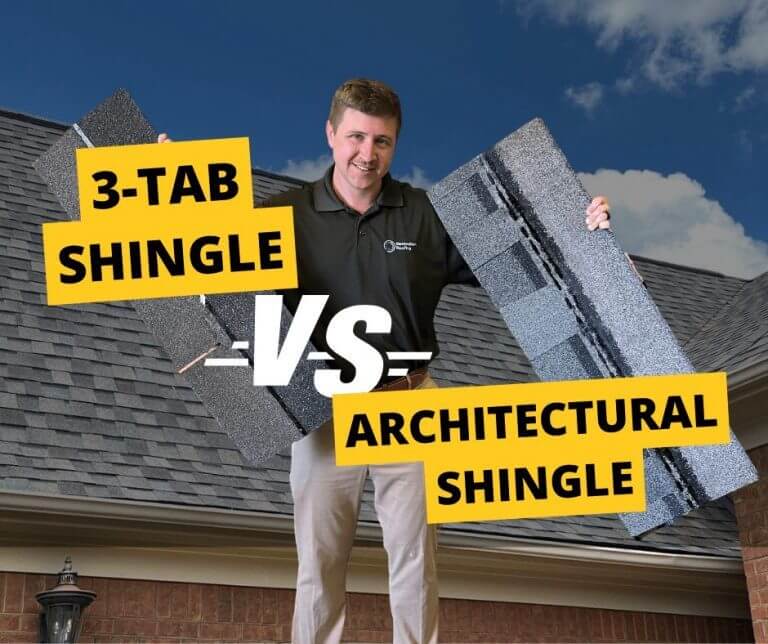 What's the Difference Between 3-Tab and Architectural Shingles?
Nov 09 2022
Are you in the market get a new roof? You'll find you have a lot of options, starting with which type of shingle you'd like to use. You want a new roof that will last for many years so it's important to understand the difference in shingle durability, appearance, cost, and warranty.
Before making such a big decision on your home, you may find it helpful to compare the different type of asphalt shingles for your Memphis home.
Asphalt Shingles Durability
Both 3-tab and architectural shingles are asphalt shingles, meaning they are similar in composition and are made with granules for the outermost layers and fiberglass for the backing. The main difference between the two is the amount of material used per shingle. Architectural shingles are designed in layers, while 3-tab shingles are only one layer with 3-tabs per shingle. The architectural also has a thicker mat, stronger adhesives, and more granules on their surface compared to the 3-tab.
Wind Ratings
The two shingle options also have very different wind resistance ratings. The 3-Tab shingle are generally rated for wind up to 60 mile per hour while architectural shingles are rated for winds up to 120 miles per hour.
Warranty
The warranties that come with 3-tab and architectural shingles are reflective of their durability and value. 3-tab shingles have a shorter lifespan, so they have a shorter warranty of around 20 to 25 years depending on the manufacturers. Architectural shingles come with a 50-year warranty and some even have lifetime warranties.
Appearance
All 3-Tab shingles have a flat uniform-style appearance. Each shingle is cut into the same size, shape and thickness with 3-tabs on each 12 inches wide by 36 inches long shingle.
Architectural shingles have a layered effect to create a three-dimensional appearance that has the durability to withstand higher winds compared to the classic 3-tab shingle.
Cost
3-Tab shingles are the least expensive option for homeowners, however, since they are lightweight, they require more maintenance, repairs, and do not last as long as the other asphalt shingle options. Architectural are more expensive than 3-tab, however, they can increase a home's value and they are a longer lasting option.
Types of Atlas Architectural Shingles:
Types of Atlas 3-Tab Shingles:
Work With Restoration Roofing
At Restoration Roofing our team is here to keep you covered. We believe that every homeowner deserves to have a safe, secure roof over their home and we want to help you find the right shingle for your home.
We are the top-rated Memphis roofing company serving all of the surrounding suburbs of Memphis. Our team of fully licensed and insured Memphis roofers specialize in residential and commercial roofing, gutters, and skylights.
Interested in working with Restoration Roofing? To get in touch with one of our project managers, give us a call at 901-854-3402 or click here to set up an inspection and digital report. We offer free inspections that are easy and completed quickly. Make sure to follow us on Facebook and Instagram for more tips on finding the best roofing contractor for you.