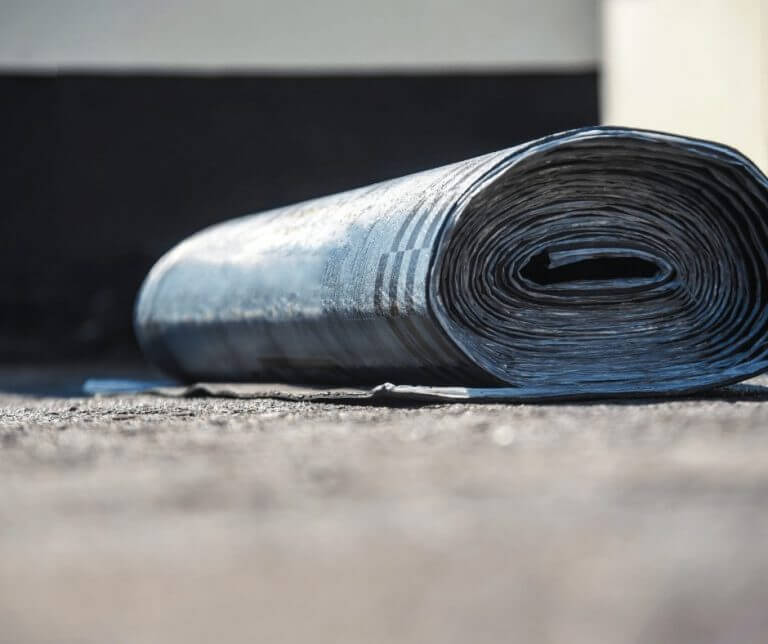 What is Rolled Roofing?
Feb 10 2022
There are many different kinds of rolled roofing materials that are used for different applications. This is one of the reasons why roofing projects should only be done by people with experience, so that the right materials are used and installed the correct way. The most common type of roofing materials, and the one most people think of, are shingles. Shingles are designed to be installed on sloped roofs because they are not watertight and are only designed to shed water, with the help of gravity. But what do you use on roofs that are flat or nearly flat? This is where rolled roofing comes into play.
What is Rolled Roofing?
Rolled roofing is a generic term that is used to broadly describe a wide number of different materials. These are materials that are used on "low slope" roofs. Basically, anything from a 4/12 to a 0/12 pitch. The most common kinds of rolled roofing used today are Modified Bitumen, TPO, and PVC.
Modified Bitumen Roofs
Modified bitumen roofs have changed drastically throughout the years, but they really popped up in the roofing industry around the 60s. Before this, the common type of roofing material was a BUR or Built Up Roof. BUR roofing was done by "building-up" layers of fabric, asphalt, and gravel. Modified bitumen comes in solid rolls and is basically constructed with fiberglass, asphalt, and roofing granules.
TPO Roofing
The next very popular style of rolled roofing is TPO. TPO stands for Thermoplastic Polyolefin. This kind of rolled roofing has taken the spot as the most popular commercial roofing material currently used. It comes in large rolls and can be installed on a roof surface relatively quickly. Screws and special plates are used to secure the rolls to the roof decking, as well as glue in certain applications. The seams are then hot air welded, which bonds the different layers together. TPO comes in different thicknesses with the most common being 60mil thick. The most common color of TPO is white. You can also get basic colors like grey and black. For this reason, TPO is rarely installed on homes, especially in situations where the flat roof can be seen from the ground.
PVC Roofing
PVC is a rolled roofing material that is very similar to TPO. In fact, to the untrained eye, they look identical to one another. PVC membranes are used and installed in the same exact way as TPO, in most cases, but PVC performs exceedingly well in situations where the roof will be in contact with grease and oils, say, from a restaurant vent hood exhaust. PVC also comes in different thicknesses and is available in a few different colors. The most common color is still white. PVC is more expensive than TPO and has become less favorable than TPO in recent years due to the advancements in TPO technology.
How is Rolled Roofing Installed?
There are many different installation methods: torch applied- where the membrane must be heated up in order to activate the sealant, adhesive method- where a layer of sealant is used to basically glue the layers together, and self-adhering. Self-adhering is the method that has become the most popular in residential applications due to its ease of installation and safety in not having to use a torch. These roofing systems should last around 20 years depending on your climate.
Rolled Roofing in Memphis, TN
At Restoration Roofing, we handle both residential and commercial roofing projects. Rolled roofing can be a beautiful and very effective roofing material if it's installed correctly. I hope this content has been helpful. As always, if you need help with your Memphis roof, give us a call at 901-854-3402! Working with a skilled Memphis roofer who specializes in rolled roofing installation and repairs will ensure your roof is installed correctly and with quality materials.
If you are having issues with your roof, call us to inspect, find the issue and provide a solution that will get you set for years to come. To get in touch with one of our project managers, give us a call at 901-854-3402 or click here to set up a free inspection. We offer free inspections that are easy and completed quickly. Make sure to follow us on Facebook and Instagram for more tips on taking care of your Memphis roof.