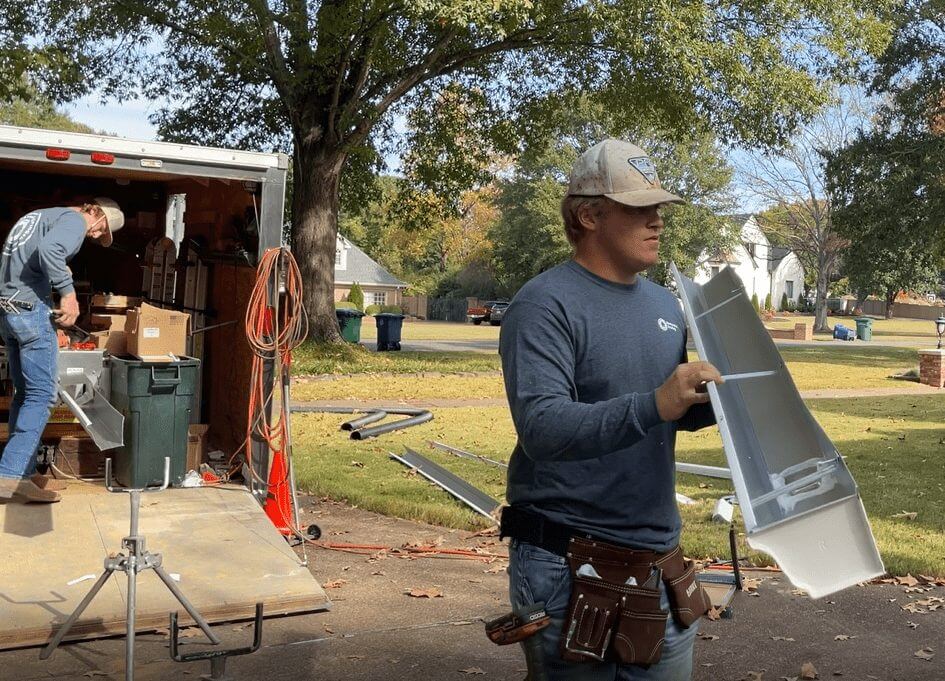 Top 3 Germantown TN Gutter Companies
Nov 16 2023
In the charming town of Germantown, TN, homeowners understand the critical role gutters play in protecting their homes from water damage. The right gutter system not only channels rainwater away from your foundation but also contributes to the overall aesthetic and value of your property. Finding a reliable gutter installer is key to ensuring that your home remains secure and beautiful through the seasons. Here, we spotlight the top three gutter installer companies in Germantown, TN, known for their exceptional service and quality workmanship.
1. Restoration Roofing
Restoration Roofing tops our list as the premier gutter installer in Germantown, TN. Renowned for their commitment to quality and customer satisfaction, they offer a comprehensive range of gutter services designed to meet the unique needs of each homeowner.
Why Choose Restoration Roofing?
Customized Solutions: Understanding that every home is different, Restoration Roofing offers tailored gutter solutions. Whether you need gutter installation, repair, or maintenance, they ensure services that fit the specific requirements of your home.
Quality Materials: Utilizing only the best materials in the market, Restoration Roofing ensures your gutters are not only functional but also durable. They provide a variety of gutter types, including seamless gutters known for their efficiency and sleek appearance.
Experienced Professionals: The team at Restoration Roofing comprises skilled professionals who bring years of experience to the table. Their expertise ensures that every project is handled with precision and care.
Customer-Centric Approach: At Restoration Roofing, the focus is always on the customer. They pride themselves on transparent communication, ensuring that clients are informed and involved throughout the installation process.
Visit Restoration Roofing for more information on their gutter services and to schedule a consultation.
2. Elite Gutters
Elite Gutters is another top-rated gutter service provider in Germantown, TN. They are known for their high-quality gutter installation and maintenance services.
Key Features of Elite Gutters:
Wide Range of Services: Elite Gutters offers a variety of services, including gutter installation, cleaning, and repair. Their ability to handle diverse gutter-related issues makes them a go-to company in Germantown.
Expert Team: With a team of experienced professionals, Elite Gutters ensures that all installations and repairs are carried out efficiently and effectively.
Customer Satisfaction: They place a strong emphasis on customer satisfaction, striving to deliver exceptional service on every project.
For detailed information on their services, visit Elite Gutters.
3. Bartlett Gutters
Completing our list of top gutter installers in Germantown is Bartlett Gutters. This company has built a reputation for its reliable gutter services and customer-focused approach.
Highlights of Bartlett Gutters:
Experienced Installation: Bartlett Gutters is known for its proficient installation services, ensuring that your gutters are set up for optimal performance.
Maintenance and Repair: In addition to installations, they offer comprehensive maintenance and repair services, helping to extend the lifespan of your gutters.
Focus on Customer Needs: Bartlett Gutters prioritizes understanding and meeting the specific needs of each customer, providing personalized service that stands out.
Find Your Germantown TN Gutter Installer
Choosing the right gutter installer is crucial for protecting your home from water damage and enhancing its overall appeal. In Germantown, TN, homeowners have excellent options with Restoration Roofing, Elite Gutters, and Bartlett Gutters. Each of these companies brings a unique set of strengths to the table, but they all share a commitment to quality, professionalism, and customer satisfaction.
Restoration Roofing stands out for its comprehensive range of customized gutter solutions, quality materials, and experienced professionals. They embody the ideal blend of technical expertise and customer care, making them the top choice for gutter installation in Germantown, TN.
When selecting a gutter installer, consider factors such as the range of services offered, the quality of materials used, and the company's reputation in the community. By choosing a reputable company like Restoration Roofing, you can rest assured that your gutter system will be handled with the utmost care and professionalism.
For all your roofing needs, trust the experts at Restoration Roofing. We're more than just a Collierville roofing company; we're your partners in home protection. Contact us today!
Give us a call at 901-854-3402 or fill out our Contact Us form and we will reach out to you with our next available inspection. Make sure to follow us on Facebook and Instagram for more tips on finding the best roofing contractor for you.