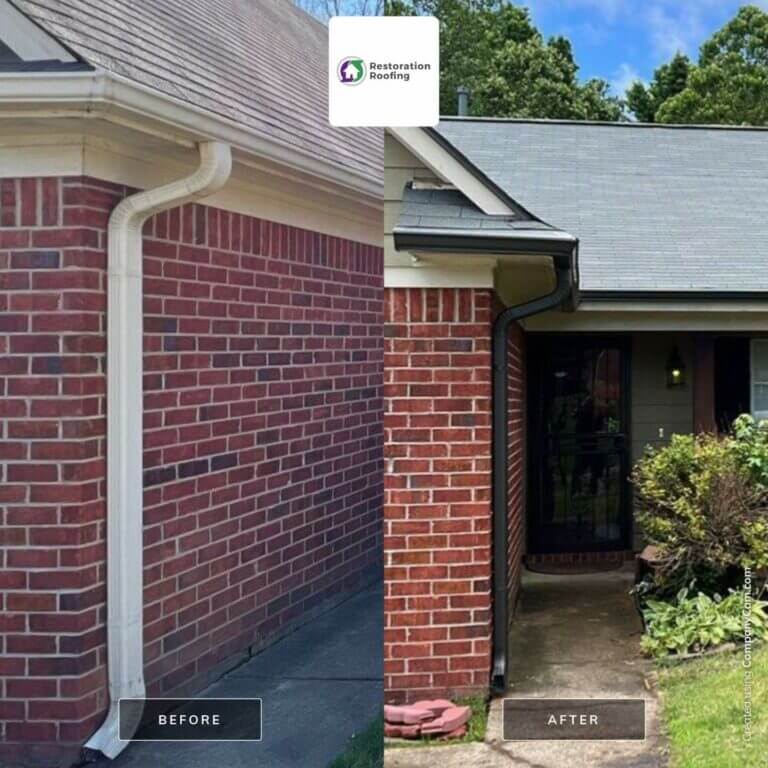 Top 3 Collierville Gutter Companies
Aug 21 2023
Having a reliable gutter system is essential for any homeowner. Not only do gutters keep rainwater away from the foundation of your home, but they also protect your landscaping, prevent erosion, and decrease the risk of basement flooding. In a place like Collierville, TN, where seasonal weather can vary dramatically, it's crucial to have dependable gutters. We've compiled a list of the top three gutter companies in the area, all of which offer excellent services to ensure your home remains in top condition.
Restoration Roofing

Website: Restoration Roofing

Overview:
Restoration Roofing isn't just about roofs; they're also experts when it comes to gutters. Recognizing the importance of a well-functioning gutter system for the overall health and longevity of a home, Restoration Roofing offers a comprehensive range of services, ensuring Collierville homes are safe from water damage.

Services:
This Collierville roofer provides gutter installation, repair, and maintenance services. Their team is equipped with the tools and expertise to handle everything from routine cleanings to complete system replacements. They also offer the installation of Raindrop Gutter Guards, ensuring that your gutters remain free from debris and function efficiently.

What Makes Them Stand Out:
Restoration Roofing places a high emphasis on quality. They utilize top-tier materials to guarantee longevity and durability in their gutter installations. Coupled with their vast experience in the industry, they have established themselves as a trusted name in Collierville for all gutter-related needs.

Gutter Fabricators

Website: Gutter Fabricators

Overview:
Gutter Fabricators prides itself on providing custom-made gutter solutions for its clients. They've been in the business for years and have made a mark in the Collierville area with their tailor-made solutions and commitment to quality.

Services:
Offering a variety of services, Gutter Fabricators specializes in the installation, cleaning, and repair of gutter systems. Their services also extend to downspouts and gutter guards, ensuring a holistic solution for homeowners.

What Makes Them Stand Out:
The company's emphasis on custom solutions sets them apart. They understand that every home is different, and thus, they design gutter systems that best suit individual property needs. Their commitment to using top-notch materials and ensuring that their clients receive the best possible service makes them a top choice in the Collierville region.

Bartlett Gutter

Website: Bartlett Gutter

Overview:
Bartlett Gutter is a family-owned business that has been serving the Collierville area for decades. Their extensive experience has allowed them to perfect their craft and deliver exceptional services to their clientele.

Services:
Bartlett Gutter provides a wide range of services, from gutter installations and cleanings to repairs. They are also proficient in working with both residential and commercial properties, ensuring that every property type in Collierville has access to top-tier gutter solutions.

What Makes Them Stand Out:
Their long-standing presence in the community gives them an edge. They understand the specific needs of Collierville residents and use this knowledge to offer solutions that are both effective and long-lasting. Their commitment to ensuring customer satisfaction and their use of high-quality materials makes them one of the top choices in the region.
Find Your Collierville Gutter Company
Whether you're building a new home, looking to upgrade your current gutter system, or simply in need of repairs, these three companies in Collierville, TN, have proven to be dependable, offering high-quality services that cater to various needs. Each brings a unique set of skills and expertise to the table, ensuring that residents of Collierville have access to the best when it comes to safeguarding their homes from water damage.
For all your roofing needs, trust the experts at Restoration Roofing. We're more than just a Collierville roofing company; we're your partners in home protection. Contact us today!
Give us a call at 901-854-3402 or fill out our Contact Us form and we will reach out to you with our next available inspection. Make sure to follow us on Facebook and Instagram for more tips on finding the best roofing contractor for you.