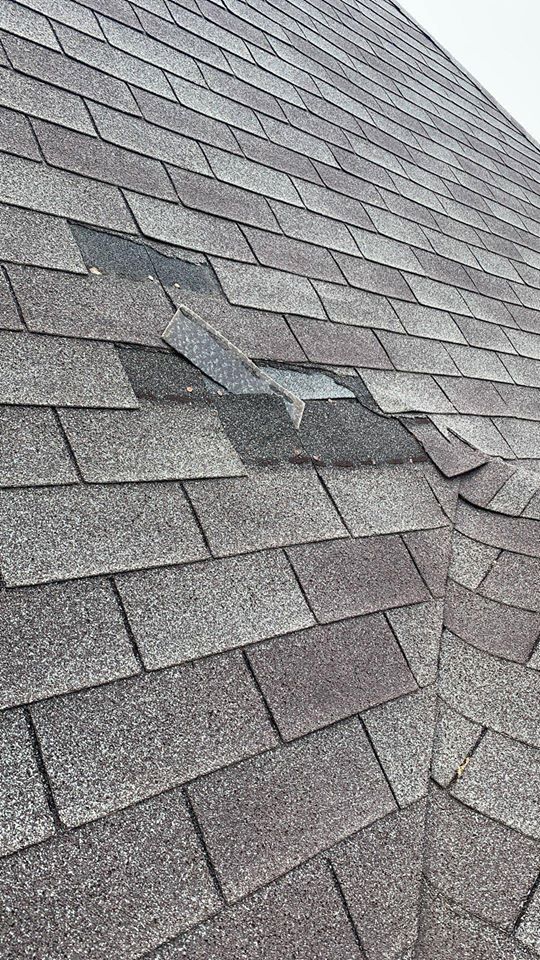 Top 10 FAQ Questions on Roofing Insurance Claims
Jun 17 2020
A roof replacement after hail or wind damage is an expensive undertaking. To help relieve costs, homeowners should rely on their insurance company to help cover all or part of the expense.
This can be a complex and lengthy process, but Restoration Roofing has a specialist on our team who will work with homeowners during every step and streamline the process.
Here is a list of common questions that new homeowners may have after experiencing roof damage for the first time.
What signs of roof damage should a homeowner look for after a storm?
Storm damage varies based on severity of the wind or hailstorm that passed through your neighborhood. It can be as obvious as missing shingles or it may be something more subtle such as hail marks that are not visible from the ground.
Evidence of wind damage is the easiest to spot. You may notice that your shingles are "lifting", "folding-up", or are missing completely. Since straight-line wind usually only travels in one direction, you will probably notice on certain sides of your home where the damages are much worse. These are the sides that directly faced the incoming wind. If this is happening, you can almost guarantee that the other sides will show the same result if and when high wind hits them, as well. When a project manager comes to inspect your roof, they will be looking for shingles that have been creased from being lifted by wind or missing granules caused by hail.
If a homeowner suspects damage, who should they contact first?
A homeowner should call a reputable roofing contractor first. Many companies offer free inspections for storm damage claims. Be sure to do your research by looking into company reviews and select someone who has a good reputation in the community. A project manager will make an appointment to visit your home and mark up the areas on the roof that are caused by storm damage.
Who is responsible for stopping the leak?
It is the homeowners responsibility for stopping the leak. If you have active water coming into your house through a roof leak, you should call a contractor to do an emergency tarping of the roof to prevent further damage.
Who will call in the claim?
The homeowner is responsible for calling in the claim, however, we can assist in answering any questions that insurance may ask and we will provide all documentation needed for the report.
Will Restoration Roofing be there while the insurance adjuster is inspecting the roof?
Yes! Contact us with the day and time the insurance adjuster is scheduled to be a your home and we will be there to meet with them. We will walk the roof with the adjuster and show the areas of storm damage.
Will my insurance rates increase if I file a claim?
No, your insurance rates should not increase if you file a claim due to weather related damage. However, an insurance company can raise the rates of an entire neighborhood that has been affected by storm damage.
How does the payment process work?
There are two major types of residential insurance policies: Actual Cash Value (ACV) and Replacement Cost (RC).
Actual Cash Value:
With the ACV policy, your roof's value depreciates each year for the life of the shingle. In this policy you will only receive a check for the depreciated value of your roof.
Replacement Cost:
With the RC policy, your insurance will cover the cost of roof replacement minus your deductible. This policy is paid out in two installments. The first check is sent to the policy holder by the insurance company once the insurance adjuster has completed their roof damage assessment. The second check is held until the repairs to your roof are completed. It is sent to the homeowner when the insurance company receives a final invoice for payment.
Will Restoration Roofing cover my deductible?
No, we will not cover your deductible. Roofing contractors who say they will cover the deductible are committing insurance fraud. We pride ourselves in being honest and fair with all of our customers and therefore we do not compromise on our ethics.
Do you need to get more than one estimate?
No, you do not need to get more than one estimate. As the homeowner you can choose the contractor you want to do the repairs. Your insurance company may suggest to get more than one estimate, however, if you get multiple estimates your insurance company will most likely go with the cheapest estimate and not the best quality option.
What if the insurance company denied the claim?
If your insurance company denies the claim, don't despair! We will continue to work with you to get a second opinion from a public adjuster who can access the damage, adjust the claim and get it settled in a fair manner.
For a complimentary roof inspection by a reputable Memphis roofing contractor, give us a call at 901-854-3402.
For more information check out our video: