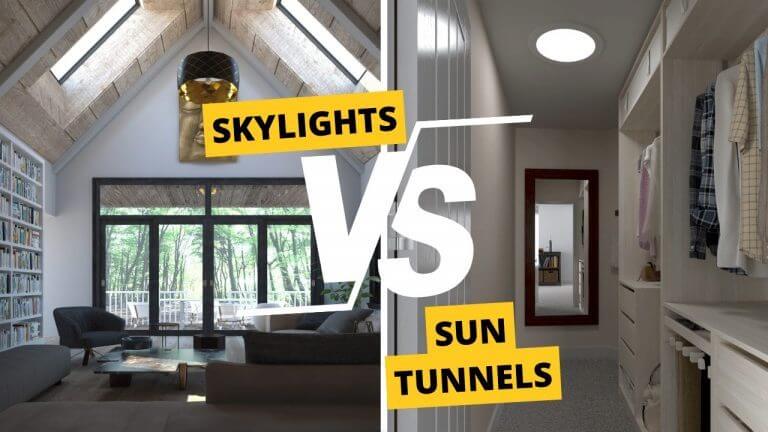 Skylights VS Sun Tunnels: Which Is Best for My Home?
Aug 30 2022
So you're thinking about adding some natural light to your home but you're not sure which option is best for you. Skylights and sun tunnels are both great ways to brighten up a space, but they have some key differences that you should take into account.
Adding Skylights To Your Home
Skylights are a great option if you're looking to add a lot of light to a large space. Skylights are a great way to add a lot of natural light to your home. They are also a great way to improve the air quality in your home by increasing ventilation and circulation.
Velux skylights are one of the most popular options for adding skylights to your home. They offer a wide range of options for design, color, and installation that will work with any type of home.
Some other benefits of adding skylights to your home include:
-Increased ventilation
-More natural light
-Improved air quality
-Reduced energy bills
It is important to note that skylights can also be a bit of a heat sink in the summer, letting in the warm sun and making your home uncomfortable. To combat this, we recommend adding in skylight blinds for you to be able to control the amount of light being let in by your skylight. These blinds are an easy addition to any skylight and can be controlled by the click of a remote.
Kinds Of Skylights
There are a variety of skylights available through Velux to suite any homeowner's needs. Check out the options below-
Solar Powered "Fresh Air" Skylights: Open and close your skylight with the power of the sun! Fitted with a solar panel, this skylight collects the sun's energy and uses it to open and close the skylight with a touch of a button.
Electric "Fresh Air" Skylight: Rather use your home's electricity to open and close your skylight? The Electric "Fresh Air" Skylight is equipped with a concealed battery that operates the skylight with a remote control.
Manual "Fresh Air" Skylight: For skylights within reach, the Manual "Fresh Air" Skylight allows you to easily open and close your skylight with just a turn of a handle.
Fixed Skylights: Unlike the "Fresh Air" skylights that open to bring in fresh air, the Fixed Skylight is designed to only bring in natural light to your space, making it ideal for spaces like sunrooms and porches.
Adding Sun Tunnels To Your Home
Sun tunnels, on the other hand, are a great option for smaller spaces or for adding light to a room without making it too hot. VELUX Sun Tunnels bring natural light into homes through a specially designed tunnel that passes from roof to ceiling and are a simple and cost-effective way to add natural light to all spaces.
Adding a Sun Tunnel is a cost-effective way to add natural light to areas that need a brighter, more vibrant appearance. Customers love putting them in smaller rooms that need more natural light including hallways, closets, and laundry rooms. Their low-profile design creates a sleek appearance on any roofline, and their pre-fabricated light tunnel makes them quick and easy to install.
If your space can't accommodate a traditional skylight, or if you'd like to install multiple light sources, choose a Sun Tunnel is a great option for natural light in areas where you never thought possible.
Kinds of Sun Tunnels
Flexible Sun Tunnels: Flexible tunnels are recommended when installation around obstacles within the loft space is required. They are the easiest product to install because of the maneuverability of the material.
Rigid Sun Tunnels: Rigid tunnels are recommended when there is a straight, unobstructed path from the roof to the ceiling, although they can be maneuvered slightly.
So which is best for you? It really depends on your needs and what you're looking for in a light source. If you want a lot of light and don't mind a little extra heat in the summer, a skylight is a great option. But if you're looking for an efficient light source that is less expensive and is best for smaller rooms, then a sun tunnel may be best for you.
At Restoration Roofing we are the only Memphis roofing contractor in the Mid-South that is a 5-star Velux installer of skylights and sun tunnels. From new skylight installations to replacing or repairing your current skylights, our team has the experience and certifications to get your dream home.
Memphis Skylight and Sun Tunnel Installation
If you would like a comprehensive quote for a replacement or new skylight cut-in, give us a call at 901-854-3402. At Restoration Roofing we have the experience and expertise to help you through the entire process to replace or install your Memphis skylight. To get in touch with one of our project managers, give us a call at 901-854-3402 or click here to set up a free inspection. We offer free inspections that are easy and completed quickly. Make sure to follow us on Facebook and Instagram for more tips on taking care of your Memphis roof.