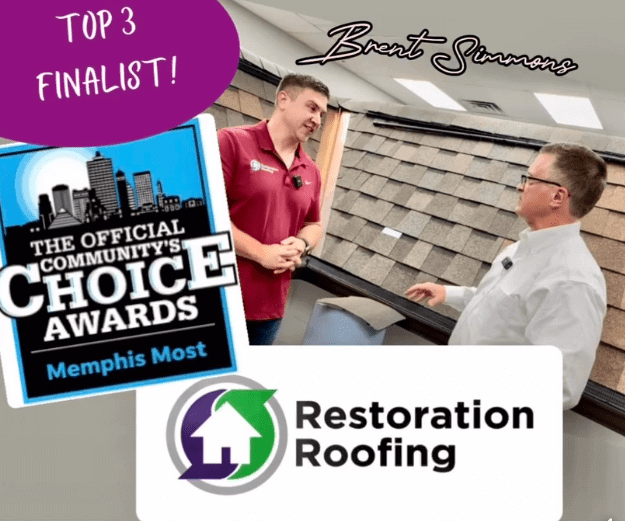 Restoration Roofing Named One of the Top 3 Memphis Roofing Companies in 2023
Oct 11 2023
We're thrilled to announce that Restoration Roofing has been recognized as one of the top three roofing companies in Memphis for the year 2023 by the Memphis Commercial Appeal! This accolade was awarded as part of the Memphis Most competition, a prestigious event that celebrates excellence in various business and service categories in Memphis.
About the Memphis Most Competition
Memphis Most is more than just an annual competition; it's a testament to the businesses that go above and beyond in their respective fields. Organized by the Memphis Commercial Appeal, the competition spans various categories, from food to fitness, healthcare to home services. Each year, local residents cast their votes for their favorite businesses, spotlighting those that have made a significant impact on the community.
Detailed information about the competition can be found at Memphis Most, which underscores the rigorous evaluation and public participation involved in the selection process.
Restoration Roofing: A Commitment to Excellence
For Restoration Roofing, this recognition is not just an award but a reflection of our unwavering commitment to providing top-notch roofing solutions for our Memphis community. Our dedication to craftsmanship, unparalleled customer service, and innovation in roofing solutions has always set us apart.
It's heartening to see our efforts being acknowledged on such a reputable platform, alongside other esteemed roofing companies, Masters Roofing and Miller Roofing and Renovations.
What This Means For Our Customers
This recognition solidifies what many of our clients already know – that when they choose Restoration Roofing, they're opting for a service that is among the best in Memphis. Our title as one of the top three roofing companies in 2023 is a testament to our expertise, trustworthiness, and dedication to our customers.
As we move forward, we promise to uphold this standard of excellence, continuing to refine our services and provide our community with roofing solutions that are not just durable and efficient but also innovative.
A Heartfelt Thank You
We want to extend our sincerest gratitude to everyone who voted for us in the Memphis Most competition. Your support and trust fuel our passion for what we do. A big thank you also goes to our incredible team whose hard work and dedication have been pivotal in achieving this recognition.
Finally, a nod to our fellow nominees, Masters Roofing and Miller Roofing and Renovations. Being listed alongside such competent companies truly underscores the quality of roofing services Memphis has to offer.
Work With Restoration Roofing
As we celebrate this achievement, we're reminded of our mission: to offer unmatched roofing services to the Memphis community. We remain committed to that goal, continually striving to set new benchmarks in quality and service.
If you're looking for roofing solutions in Memphis, know that with Restoration Roofing, you're choosing one of the very best. Here's to many more years of excellence and roofing innovations!
Give us a call at 901-854-3402 or fill out our Contact Us form and we will reach out to you with our next available inspection. Make sure to follow us on Facebook and Instagram for more tips on finding the best roofing contractor for you.