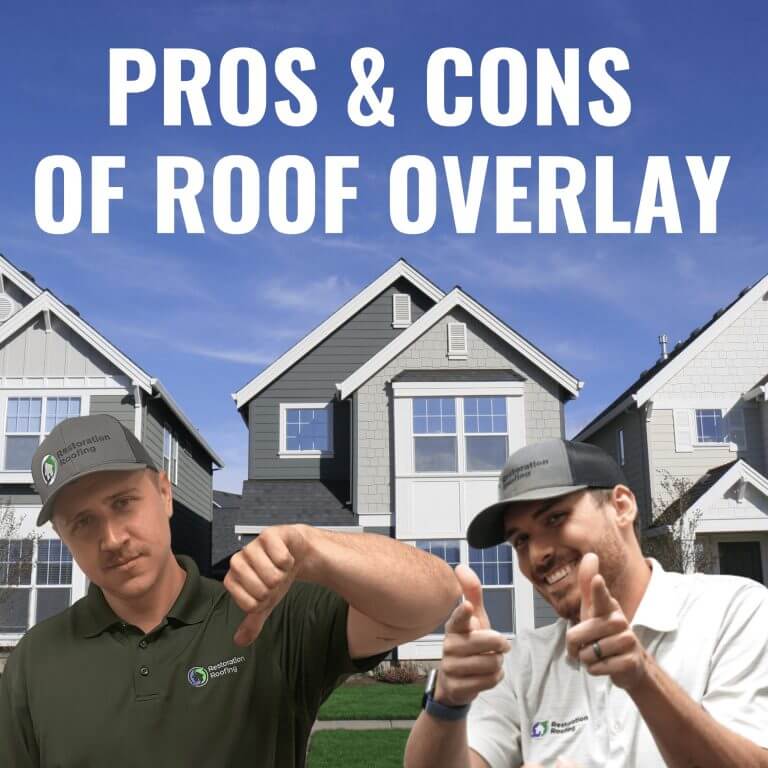 Pros and Cons of a Roof Overlay
Jul 23 2020
We get asked all the time "Can you add new shingles on top of old ones?"
Our answer, "Yes."
Follow up Question: "Should I put another layer of shingles over my existing shingles?"
Our answer, "No."
To help explain our stance, we broke down the pros and cons of doing a roof overlay and why we do not recommend doing another layer of shingles over your roof.
What is a Roof Overlay?
A roof overlay is the process of adding a layer of shingles and waterproofing over a preexisting roof. It is most commonly used as a way to extend the life of a roof and save money by not paying removal and disposal costs of the old roof.
The Cons of a Roof Overlay
Warranty Issues:
We do not give a warranty on a layover for multiple reasons. Since we are working over someone else's work we cannot ensure the installation quality of the original roof or the status of the roof deck.
Cuts the Roof Lifespan:
Due to the extreme heat that your roof endures, placing shingles over an existing roof will shorten the lifespan of the new roof. The heat of the roof and lack of ventilation will result in deterioration of the new single and a shorter life span.
Hidden Costs:
Having two layers of shingles on your roof is going to make any leak more difficult to find and more expensive to repair.
An overlay will also be more expensive in the future since sooner or later your roof will need to be replaced. When that happens, you will have to pay for tear off and disposal of two layers of shingles.  That means double the labor to remove and double the price to dispose.
Difficulty In Finding Roof Leaks:
Leaks are difficult to find in general, even if it is a single shingle layer, but when there are two layers it becomes even more difficult.
Unable to Inspect the Decking:
An important part of roof tear off process is being able to inspect the decking under the shingles. To ensure a quality roof installation, we need a good, solid, nailable service to attach the shingles.
Cannot Layer Architectural Shingle:
Shingles are designed to be installed on flat services so we can not overlay on architectural shingles.
Adds Height and Weight:
With a roof overlay, you are essentially adding another roof on top on top of your home. That means double the weight on your home, which can harm the structure of your decking and framing.
The Pros of a Roof Overlay
Cost Savings:
The main reason homeowners choose to do a roof overlay is the initial cost savings of not having to pay for shingles removal and disposal. This is a cost savings of about 20 – 40 percent compared to doing a full roof replacement.
Less Mess:
Leaving the original shingles on the home will reduce the amount of cleanup needed and will shorten the time frame the home is under construction.
At Restoration Roofing we have the experience and expertise to help you through the entire process to replace your Memphis roof. To get in touch with one of our project managers, give us a call at 901-854-3402 or click here to set up a free inspection. We offer free inspections that are easy and completed quickly. Make sure to follow us on Facebook and Instagram for more tips on taking care of your Memphis roof.
For more information check out our video: