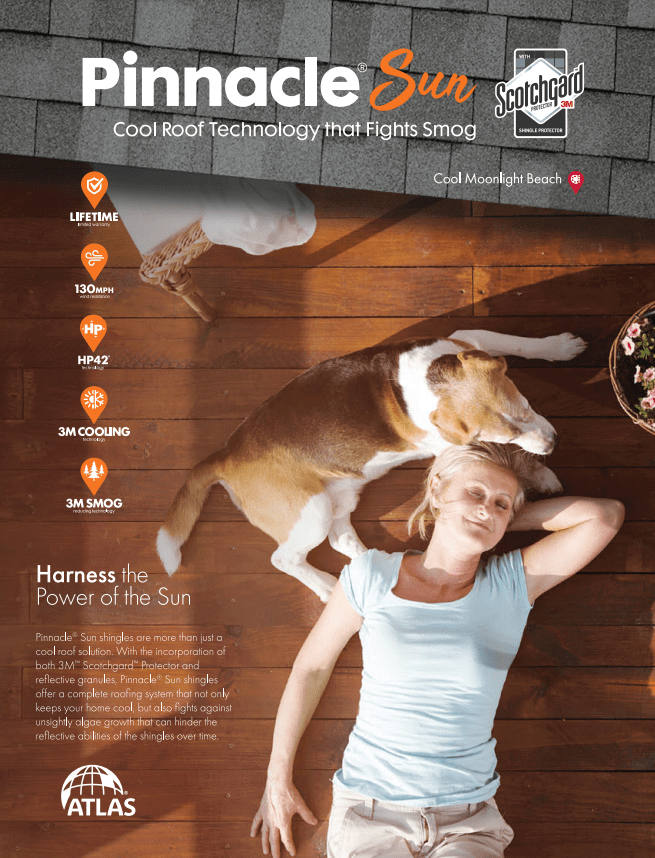 New Atlas Shingles: Pinnacle Pristine Sun
Apr 12 2023
Atlas Roofing Corporation recently introduced a new addition to their line of shingles: the Atlas Pinnacle Sun. The Pinnacle Sun is more than just a great looking roof. These shingles offer a variety of cooling and durability features that make them a great option for homeowners looking to upgrade their roofing. Check out why you are going to want these on your Memphis roof!
Harness the Power of the Sun
The Atlas Pinnacle Sun shingles are designed to be highly reflective, meaning they can help keep your home cooler in hot weather. The shingles reflect and emit the sun's heat back to the sky instead of transferring it to the building below.
One of the standout features of these shingles is their ability to help homeowners save money on their energy bills. By reflecting more of the sun's rays, the Atlas Pinnacle Sun shingles can help reduce the amount of heat that enters a home. This can result in lower air conditioning costs, especially during the hot summer months.
Pinnacle Sun shingles are produced to meet the Cool Roof Rating Council's standards for their Solar Reflective Index and may comply with city and state building codes for reflectivity.
Smog Removal Inspired by the Power of Trees
A unique feature of the new Pinnacle Sun shingles is their ability to create a smog-fighting surface on your roof. Patented 3M Smog-reducing granules are formulated with a photocatalytic coating that, once activated by sunlight, transforms smog into water-soluble ions. This reaction helps to improve air quality.
Fun Fact: With 3M smog-reducing granules, an average-sized roof has the smog fighting capacity of 2-3 trees!
No Streaking!
With all of Atlas' roofing shingles, your roof is sure to stay streak free from black algae. This is due to the use of Scotchgard Protector by 3M, a technology that helps prevent black streaks caused by algae.
This innovative technology, which includes copper-containing granules made with a 3M porous ceramic coating, allows copper ions to release slowing over time, helping to prevent ugly black streaks.
Shingles Made to Last
Additionally, the shingles are manufactured using HP42″ technology, which ensures they are durable and long-lasting. Atlas shingles are designed to stay put in the roughest of conditions. In fact they have a 130 MPH wind resistance rating.
Installation of the Atlas Pinnacle Sun shingles is made easier by their larger size. At 42 inches wide, they are wider than many traditional shingles, which means fewer shingles are needed to cover a roof. Plus, the wider shingle format along with larger nailing area, means your roofer will hit the mark every time and reduce installation errors.
Colors to Match Any Home
The Atlas Pinnacle Sun shingles are available in a range of colors to suit any home's aesthetic. From classic black to warm browns and reds, there is a color to complement any exterior. Additionally, these shingles are backed by a lifetime limited warranty, giving homeowners peace of mind knowing their investment is protected.

Are Pinnacle Pristine Sun Shingles Right for You?
Overall, the Atlas Pinnacle Sun shingles offer a great combination of features and benefits that make them an excellent choice for homeowners looking to upgrade their roofing. From energy efficiency and impact resistance to a range of colors and a lifetime warranty, these shingles are sure to provide lasting value and protection for any home.
Restoration Roofing is proud to offer Atlas' latest product, the Pinnacle Pristine Sun shingles, to customers in Memphis TN. We believe that the Atlas Pinnacle Sun shingles are an excellent choice for homeowners looking to upgrade their roofing. With their highly reflective properties, impact resistance, and energy efficiency, these shingles offer a range of benefits that can help homeowners save money and protect their homes.
By partnering with Atlas, we are able to provide our customers with access to high-quality products backed by a lifetime limited warranty. At Restoration Roofing, we are committed to delivering superior service and top-quality products to our customers, and our partnership with Atlas is just one of the many ways we strive to achieve this goal.
Work With Restoration Roofing
If you'd like to see the benefits of having an Atlas roof on your home, contact us for a complimentary inspection. Give us a call at 901-854-3402 or fill out our Contact Us form and we will reach out to you with our next available inspection. Make sure to follow us on Facebook and Instagram for more tips on finding the best Memphis roofing contractor for you.