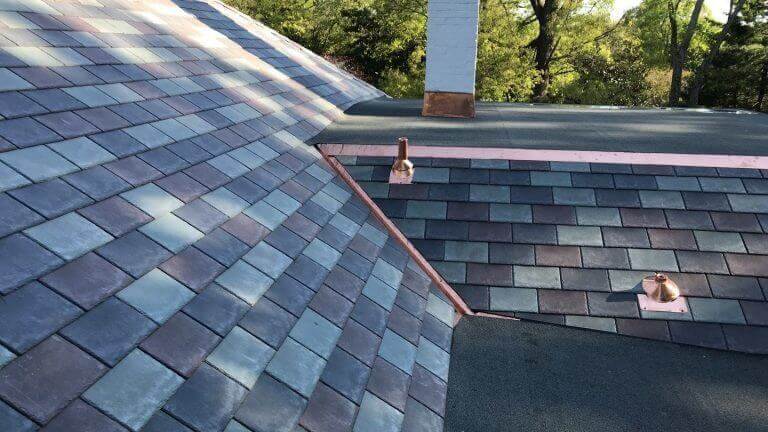 Memphis Slate Roof and Gutters
Jan 17 2022
Have you ever heard of synthetic slate? This Memphis roof had designer synthetic slate installed with copper flashing and all new gutters with gutter guards. The roof turned out beautifully and the best part is that it was all covered by insurance after a storm caused damage to the previous slate roof.
Synthetic slate is a great option that keeps the durability and look of traditional slate. Made from a combination of plastic and rubber, these slate shingles are easier to install and a lighter load on your home.
Our team of skilled installers made a special shoot to remove the heavy slate slates off of the roof to prevent any damage to the home or property. A safe clear off and thorough cleanup are just as important as a quality installation.
Our experienced team also installed half round copper gutters and Raindrop gutter guards on the main home complete with a 20 year warranty on the product. Copper was also custom made for flashing around the home, the chimney and the pipe boots.
Ready to take on your next roofing project? If your located in the Memphis area, Restoration Roofing would be happy to help you with the entire roof process from initial inspection to helping you pick out your shingle color and getting you a roof that will last for years to come.
To schedule a complimentary digital roof inspection, give us a call at 901-854-3402, or contact us online. We are happy to be your local Memphis, TN roofer!