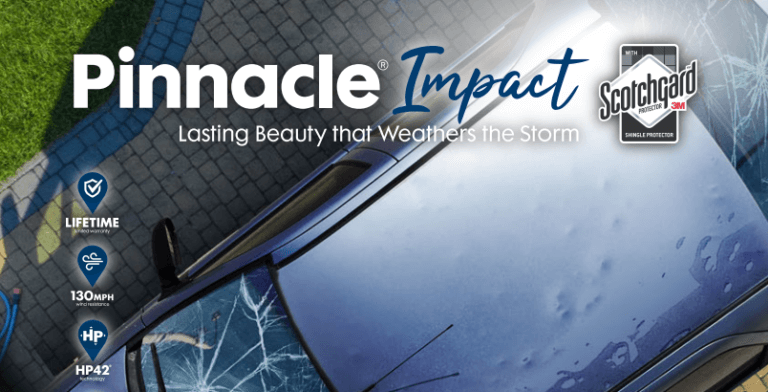 Introducing Atlas' New Pinnacle® Impact Shingles!
Apr 23 2023
Are you searching for the perfect shingle option to not only elevate the aesthetics of your home but also provide unmatched protection? Look no further! We are thrilled to introduce Atlas Roofing's newest offering, the Pinnacle® Impact Shingles, which combine unparalleled beauty with cutting-edge technology to bring you the ultimate roofing solution. In this blog, we'll take you through the impressive features and benefits of these remarkable shingles that are poised to redefine the roofing landscape.
Elevate Your Home's Curb Appeal
Atlas' Pinnacle® Impact Shingles boast an extraordinary dimensional appearance that exudes luxury and sophistication. The shingles feature high-definition colors, giving your roof a striking, distinctive look. Choose from a wide range of stunning hues that have been expertly curated to enhance your home's architectural style and boost its curb appeal.
Advanced Protection with Core4™ Technology
What sets Pinnacle® Impact Shingles apart is Atlas' groundbreaking Core4™ Technology, which provides unbeatable performance and durability. Here's a closer look at the four key components of this advanced technology:
PolyCore™: The shingles' foundation is made from a superior SBS (styrene-butadiene-styrene) modified asphalt, which provides exceptional strength, flexibility, and resistance to cracking or tearing.
FlexCore™: FlexCore™ technology ensures that the shingles remain pliable even in cold weather, making them easy to install and maintain, and improving their resistance to impact.
WeatherCore™: With WeatherCore™, Pinnacle® Impact Shingles can withstand the harshest weather conditions, from scorching heat and heavy rainfall to high-speed winds and hail.
ThermalCore™: This component provides enhanced thermal stability, ensuring that the shingles maintain their structural integrity and appearance under fluctuating temperatures and extreme UV exposure.
Algae-Resistant Shingles
Are you tired of unsightly algae stains compromising the beauty of your roof? Pinnacle® Impact Shingles feature 3M Scotchgard™ Protector, which inhibits the growth of blue-green algae and keeps your roof looking pristine and vibrant for years to come. With Atlas, you can enjoy a stunning, algae-free roof without the need for constant cleaning and maintenance.
Industry-Leading Warranty
Atlas stands behind the Pinnacle® Impact Shingles with an exceptional Limited Lifetime Warranty, giving you peace of mind and confidence in your investment. You'll also benefit from a 15-year Wind Warranty that covers winds up to 150 mph and a 20-year Algae Resistance Warranty, protecting your roof from algae-related discoloration.
Are Pinnacle Pristine Impact Shingles Right for You?
Overall, the Atlas Pinnacle Impact shingles offer a great combination of features and benefits that make them an excellent choice for homeowners looking to upgrade their roofing.
Restoration Roofing is proud to offer Atlas' latest product, the Pinnacle Pristine Impact shingles, to customers in Memphis TN. We believe that the Atlas Pinnacle Impact shingles are an excellent choice for homeowners looking to upgrade their roofing. Their captivating appearance, advanced Core4™ Technology, algae resistance, and comprehensive warranty make them the perfect choice for homeowners seeking to elevate their roof's aesthetics and performance.
By partnering with Atlas, we are able to provide our customers with access to high-quality products backed by a lifetime limited warranty. At Restoration Roofing, we are committed to delivering superior service and top-quality products to our customers, and our partnership with Atlas is just one of the many ways we strive to achieve this goal.
Give us a call at 901-854-3402 or fill out our Contact Us form, and we will reach out to you with our next available inspection. Make sure to follow us on Facebook and Instagram for more tips on finding the best roofing contractor for you.