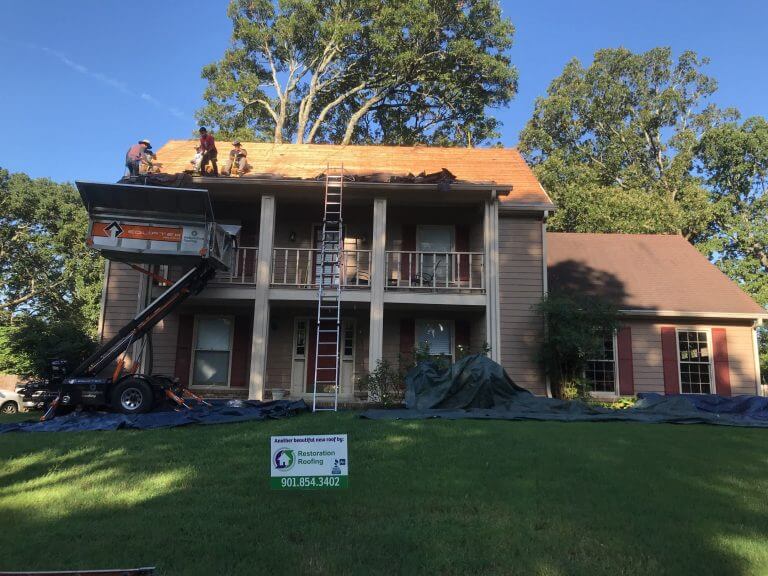 How to Protect Your Landscaping During a New Roof Installation
Jan 20 2022
Your roof is starting to show wear and tear, and you've decided it's time for a new one. But before construction begins, you have some things to consider — namely, what can you do to protect your landscaping? As a homeowner, chances are that one of the last things on your mind is the potential for property damage during a new roof installation.
However, when hiring a contractor to handle the job, it's important to do your due diligence regarding the landscaping around your home — as new roof installations can be extremely messy projects when they're completed by careless or inexperienced contractors. Check out the measures that Restoration Roofing takes for each roof install!
Cover and Remove Valuable Items in the Attic
We always want to ensure that your valuables are protected and covered. Extensive work is being done on your roof including numerous installers walking on your roof and nail guns hammering into your roof. We suggest wrapping up any valuables, but we will lay down plastic in your attic before installation starts and we will vacuum your attic once the project is completed.
Move breakables and outdoor furniture away from the home
During the tear-off of your roof, the roofers will be throwing old shingles and debris to the ground. Most homeowners have patio furniture and yard decorations close to their home. We recommend our customers to move their breakable items, but we will be more than happy to help move furniture away from the house. This also makes certain that our crews do not have any tripping hazards where they are working.
Cover A/C and windows with plywood
You'll then want the roofing company to cover your windows with plywood. They will prop the plywood against your home at an angle so that when roof debris is thrown from the roof, it will slide down to the tarp covered group instead of against your windows.
Having done this, they will then move onto covering any A/C units that might be exposed during the installation process. You'll want to use either plywood or traps for this, too.
Cover pools and hot tubs with wood and tarps
Just like your new roof, you've invested in your home by having a pool. We know how important it is to keep nails and debris out of your pool, so we will cover any pools or hot tubs with tarps and plywood.
Cover plants and decks with tarps
Your contractor will take measures to ensure that your plants, flowers, and shrubbery are protected with plywood and tarps. This simple and effective method will allow the roofing debris to slide to the ground rather than falling and damaging your plants.
Using the Equipter
Roofing is a labor intensive and hazardous occupation. From falling debris to hauling bundles of shingles up a ladder, any roofer can attest to the difficulty of the job.
Luckily, there are tools such as the Equipter RB4000 that simplify the process and ensure a clean worksite for our customers. We are able to raise the trailer of the Equipter up to 12' high, so our roofing crews can easily dump their materials into the buggy rather than dropping them onto the ground.
Want to Work With Restoration Roofing?
Restoration Roofing is a fully insured and BBB A+-rated company offering a range of roofing and gutter services. To schedule a complimentary digital roof inspection, give us a call at 901-854-3402, or contact us online. We are happy to serve Memphis and the surrounding Midsouth! To see more updates from Restoration Roofing, check out our Facebook page.