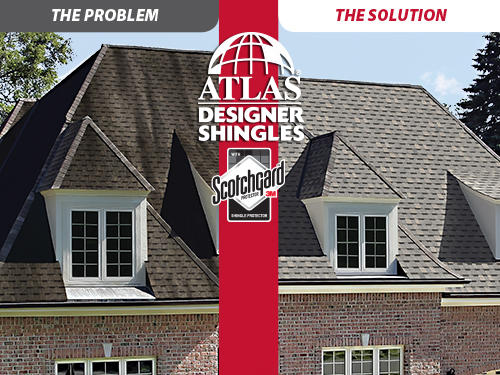 How to Prevent Black Algae Streaks on Your Roof
Jul 21 2021
Have you seen those black streaks caused by algae all over roofs in Memphis?!
The roofs we install don't have those. Why? Because we use Atlas Roofing – Shingles with Scotchgard Protector by 3M.
Black algae is a common problem in the Mid-South that makes roofs look old and dirty with black streaks and stains. Traditionally, homeowners have hired companies to clean their roofs and spend hundreds if not thousands of dollars every couple years to restore the look of their roof. However, with Atlas Shingles those unsightly streaks are a thing of the past!
Curious how we can prevent black algae streaks on your Memphis roof? Keep reading to learn the benefits of 3M Scotchgard in Atlas Shingles.
How Does Black Algae Start Growing on A Roof?
Algae can start to form as soon as one to two years. It is a living organism and needs certain conditions to be able to spread on a roof. The Mid-South tends to have the perfect conditions for growth due to all the humidity and rain. Atlas has even created a map showing the hot spots for algae growth, and as you can see Memphis ranks at one of the densest areas.
Why is Algae on Your Roof a Problem?
While algae does not affect the performance of your roof, it does affect the overall appearance and perception of your roof.  For instance, many homebuyers will see a roof covered in algae and assume there are more problems with the home than there really are. We are often called to homes where the owner is concerned about potential leaks or the lifespan of the roof because of the appearance of algae. While the condition of the roof appears to be in good shape, the algae growth often creates concerns.
How Does Scotchgard Protection Work?
Atlas has teamed up with Scotchgard by 3M to create shingles that prevent black algae streaks on your roof. So how does it actually work?
Atlas uses Scotchgard coated copper granules in their shingles that naturally kill the microorganisms like algae that try to grow on your roof. And not only do they use copper granules, but they use more than three times the amount in each shingle compared to other shingle manufacturers.
According to 3M, as rain or morning dew passes through the copper granules, the water gets charged with the copper and will naturally kill any algae that started to take root and grow on the roof.
Why We Choose to Install Atlas Shingles
While there are many different brands and styles of roofing shingles on the market, we choose to install Atlas Shingles since they are the only shingle that have Scotchgard AND more copper-containing granules than ordinary algae-resistant shingles. We believe that we owe it to our customers to give them the long-lasting roof they deserve.
And luckily for our customers, Atlas offers plenty of great styles and colors to choose from including Pinnacle Pristine®, StormMaster® Shake and StormMaster® Slate. For more information on how Restoration Roofing can provide you with a long-lasting streak-free roof, give us a call at 901-854-3402 or contact us here.
We offer inspections that are easy and completed quickly. Make sure to follow us on Facebook and Instagram for more tips on taking care of your roof.
For more information, check out our video on the Benefits of Scotchgard in Atlas Shingles: