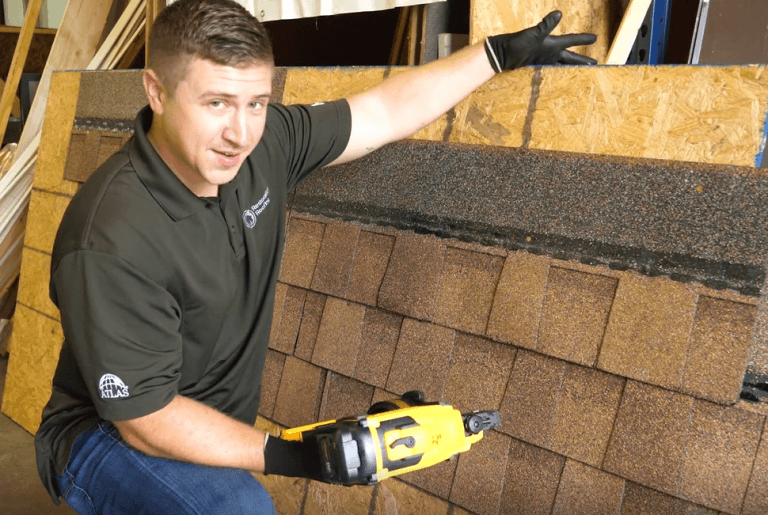 How to Nail Roofing Shingles
Sep 04 2020
Proper Use of the Nail Zone to Install Atlas Shingles
Your home is protected from the elements by your roof's shingles, but they only work when they are installed properly.
Roofing shingles have specific guidelines on how they should be attached to your roof and correct installation is essential for shingle performance.
No matter which shingle manufacturer your roofing contractor chooses, one key factor is that they all have a nail zone.
The nail zone is probably the most important component of any shingle and is designed for one sole purpose. This is the strip where nails must be installed to ensure the roof is put on properly. If nails are installed incorrectly it can cause your entire roof to fail.
Different shingles have different size nail zones. Our preferred shingle vendor, Atlas Shingles, has the largest nail zone in the industry with a one-and-a-half-inch nail zone. This allows for an efficient installation and also allows the crew to ensure that every nail is driven in the right spot.
Why is the nail zone so important?
Atlas has designed their nail zone to rest on top of the common bond area of a shingle. The common bond is the center line of the shingle where the two layers stick together. The nail zone on the Atlas Shingles is located directly on top of the common bond area. This guarantees that with each nail we drive in we are hitting both layers of the shingle, resulting in a tight installation with no risk of the shingle sliding off.
There are two types of issues that we often see with shingle installation and those are high nails and low nails.
Issues with Installation
High Nails
A high nailing situation is when the nails are installed above the nail zone. This is a rookie mistake that can cause your shingles to start sliding off and can result in a roof that does not live up to its full potential.  This usually occurs on new construction projects when the roof installers do not know what they are doing, or they are being negligent with installation.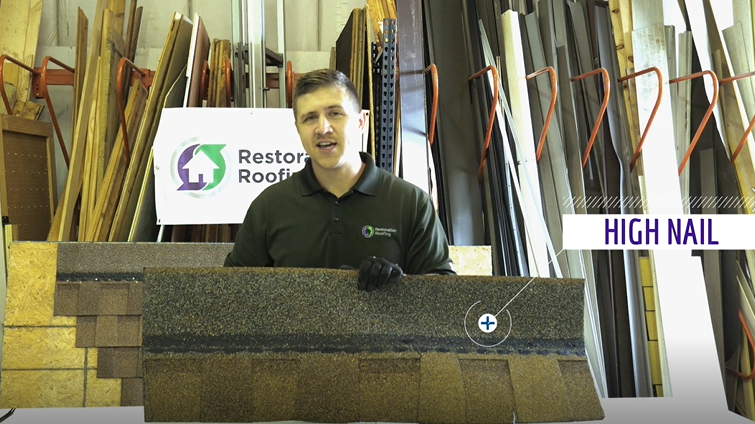 Low Nails
The second error made in shingle installation is called low nailing. This is when a nail is installed below the nail zone. When this happens the nail head will be exposed to the elements and will eventually rust. The shingles will not slide off like they would in a high nailing situation but eventually water will find its way through those nail heads resulting in a leak coming into the home.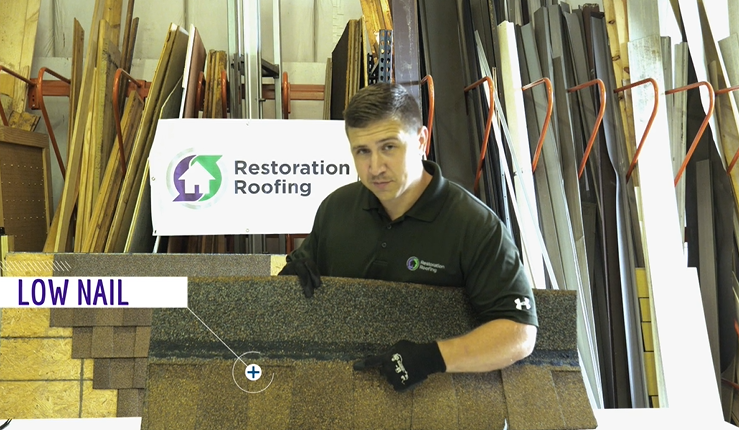 For more information and to see how we install shingles using the nail zone check out our video: