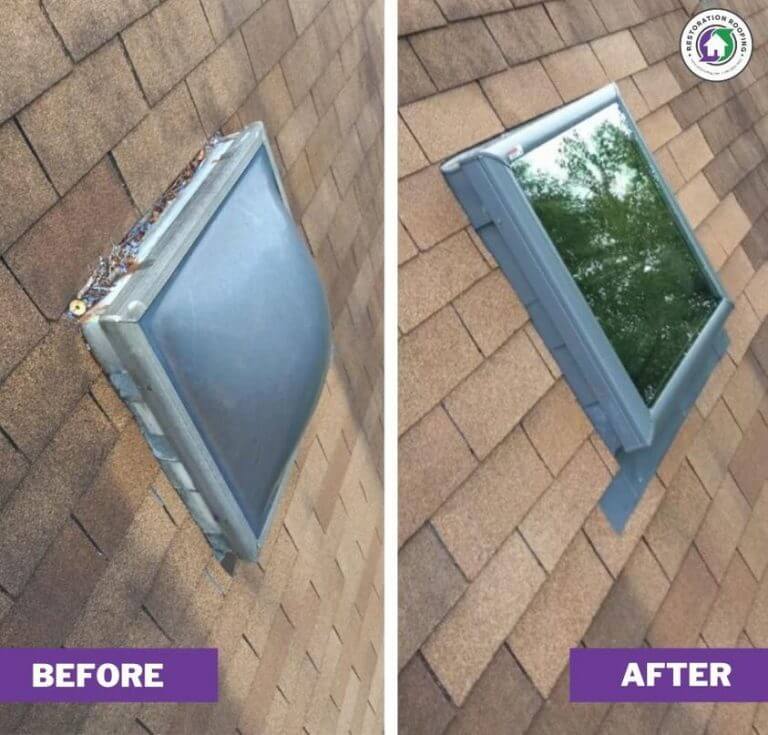 How to Know If It's Time to Replace Your Skylight
Feb 02 2022
Skylights are an awesome addition to any room. They bring it natural light that brightens the room, helps you save electricity costs, and is shown to actually improve people's moods. In order to get this much light, skylights have to be mounted on roofs and due to this location, they do take much more of a beating than a regular vertical window takes on your home. Therefore, they do eventually wear out and will have to be replaced at some point. So how do you know when it's time to replace your skylight?
In this article, we are going to tell you how you can know when it's time to replace your skylights.
Do You Have Leaks?
This is the first question I look at when judging whether or not to repair or replace a skylight. In the Memphis area, there are tons of old skylights that have flashing kits that are not available anymore. If the skylight is leaking around the flashing and the flashing kit is not available, then it's time to replace. If your skylight is just a few years old, then you can probably repair it.
Does Your Skylight Have Cracks?
As I referenced before, all of those plastic bubble skylights have a tendency to start to crack. These cracks are caused by sunlight breaking down the plastic material. If the clear plastic is cracking, the best solution is to replace the skylight with an all glass skylight. Since the flashing kits are technically separate from the clear bubble top, you can sometimes replace just the top of the skylight, but we don't recommend it. We always recommend new flashing with any new skylight unit for peace of mind and to get the Velux 10-year no leak warranty. It only costs a little more to replace the whole skylight and flashing versus just replacing the skylight itself.
Are You Getting a New Roof?
If you are getting a new roof installed, this is the best time to replace old skylights, even if they aren't necessarily leaking. First of all, many roofing companies will not grant a warranty on the skylights if they are not replaced at the same time as the new roof. So simply put, if you get a new roof and you choose to reinstall the old skylights and they start to leak, more than likely you will have to come out of pocket to pay for new skylights to be replaced. Also, when old skylights are removed and reinstalled, the sealant and gaskets can become damaged due to the movement of the skylights. Often times, the price to replace the skylight while a roof is being installed is less than it would be if you had to hire someone to just replace the skylight alone due to the fact that the old skylight has to be removed and reinstalled during the roofing process.
Are the Glazings of Your Skylight Failing?
Glazings are the sealants that seal the glass or plastic to the frame. This is the main waterproofing feature of the top of the skylight. New Velux skylights come with a 20 year warranty on glass and glazings, but older units do not hold up as well as the new units. Often times, we see the glazing fail, while the rest of the skylight is in decent shape. A lot of times, we see people try and apply silicone or tar to re-seal the glass, but this is only a temporary repair. When the sealants and glazing fail, it's time to replace the skylight.
There are obviously a plethora of other reasons to replace a skylight, but this article was to address the main reasons why, at Restoration Roofing, we get called to replace skylights.
If you would like a comprehensive quote for a replacement or new skylight cut-in, give us a call at 901-854-3402. At Restoration Roofing we have the experience and expertise to help you through the entire process to replace or install your Memphis skylight. To get in touch with one of our project managers, give us a call at 901-854-3402 or click here to set up a free inspection. We offer free inspections that are easy and completed quickly. Make sure to follow us on Facebook and Instagram for more tips on taking care of your Memphis roof.