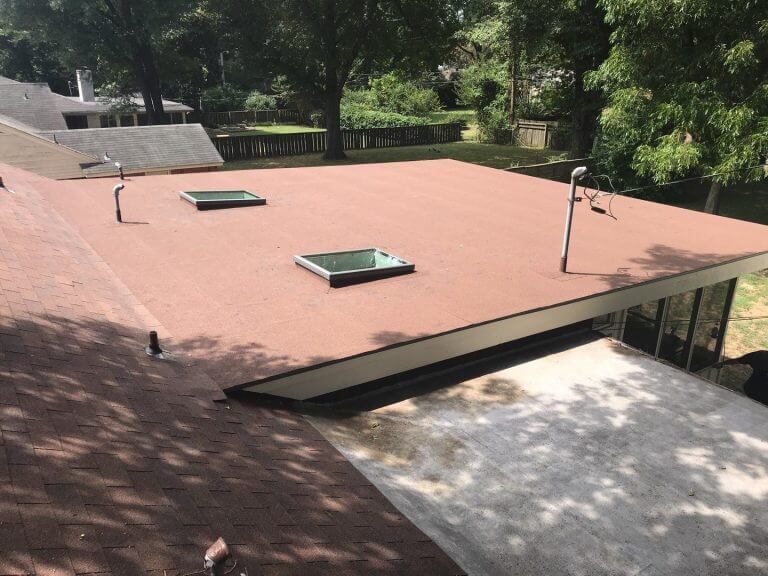 How to Install Rolled Roofing
Jan 31 2022
The term rolled roofing is used to loosely describe a wide number of roofing materials and methods used for low pitched roofs. A low pitched roof is anything that is 0/12 to 3/12 pitch.
When working on a residential home the most common type of rolled roofing used is "peel and stick" or modified bitumen roofs. Ever wonder how to install rolled roofing? Installing a new roof is no easy task, but it's not rocket science either.  In this article, we are going to describe how this is installed.
Step 1: Let the Rolled Roofing Relax.
This sounds silly, but this is an important step. The first thing you should do is roll your materials out on a flat surface, like a driveway, to give it time to relax a warm up
In the sunlight. This step will ensure that the finished product does not have large ripples in them.
Step 2: Clean the Decking
You must have clean decking to work with. Your decking will either be plywood or 1x lumber. The wood needs to be bare and free of any debris or loose nails that could puncture the new roof.
Step 3: Install the Base Sheet.
Current peel and stick modified bitumen roofing systems consist of two layers. The first layer is the base sheet. It comes in a roll that covers approximately 200 square feet. The bottom is sticky and the top is smooth. You want to start by aligning your roll with the lower eave of the roof. Roll the material out and remove the transfer plastic on the bottom as you go. This is what will allow it to stick to the decking. Once you finish your first run, you then move up to start your second row. This time, the second row will sit on top of the first one, overlapping about 3-4" depending on the guides that are printed on the lower row. You will repeat the same process as the first row and continue doing this until the roof decking is completely covered. Please note: there are a lot of peel and stick rolled roofing systems that ALSO have an adhesive on the top on the edge where the different rows will overlap. If so, you want to make sure that you pull the transfer plastic off of that part, as well. This helps the laps to seal really well.
Step 4: Install Drip Edge.
After the base sheet is installed and sticking to the roof decking, we then install drip edge around the perimeter. This goes on top of the base sheet and is nailed into the roof. We do this for two reasons. First of all, it will help protect the fascia when it rains. Secondly, it helps secure the base layer from lifting up in high winds. It's added protection and looks very nice when done this way.
Step 5: Install the Cap Sheet.
The cap sheet is what will be visible. This is similar to the base sheet in that it is sticky on the bottom, but different in that it has granules on the top. Cap sheets cover around 100 sqft per roll and come in a wide variety of colors. To install the cap sheet, you will start at the lowest edge of the roof (much like the base sheet) and roll it out. As you roll it, you will pull the transfer plastic off so that it will stick to the base layer properly. Just like base sheet, cap sheet has transfer strips on the top where the different courses of rolled roofing overlap so that they will stick properly.
Heat and Rollers:
We always recommend bringing a weighted roller to roll on the materials as you roll them on to the decking. This applies to the base sheet and cap sheet. A weighted roller will really push down the material on to the decking and eliminates bubbles and wrinkles. Sometimes, mild to moderate heat can be used to activate the sealant on the bottom. This is usually necessary in cold weather installations. We have used electric heat guns and torches. As always, be careful not to overheat the material and be careful using open flames. All you want is for the sealant on the bottom to become sticky. You do not want it smoking or "running" like goo.
Rolled Roofing by Restoration Roofing
Rolled roofing can be a beautiful and very effective roofing material if it's installed correctly. I hope this content has been helpful. As always, if you need help with your Memphis roof, give us a call at 901-854-3402! Working with a skilled Memphis roofer who specializes in rolled roofing installation and repairs will ensure your roof is installed correctly and with quality materials.
If you are having issues with your roof, call us to inspect, find the issue and provide a solution that will get you set for years to come. To get in touch with one of our project managers, give us a call at 901-854-3402 or click here to set up a free inspection. We offer free inspections that are easy and completed quickly. Make sure to follow us on Facebook and Instagram for more tips on taking care of your Memphis roof.