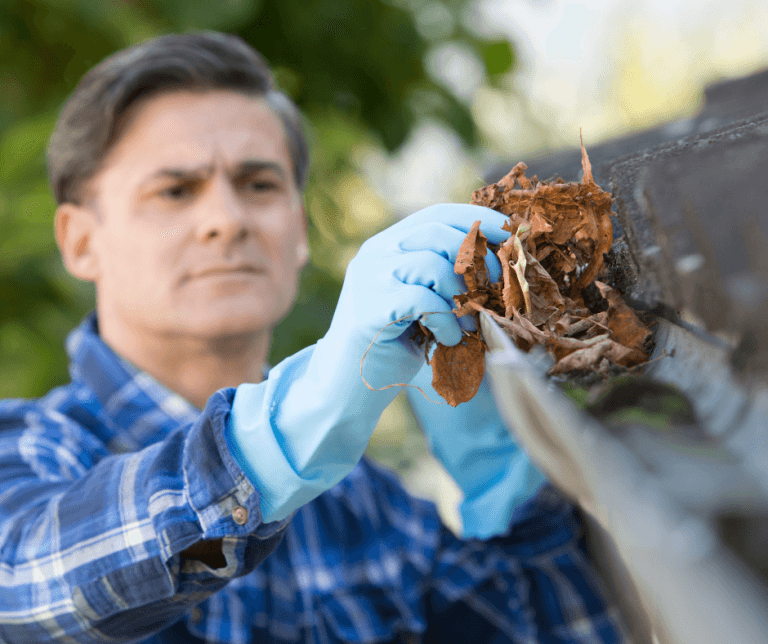 How To Get Your Roof Ready For Spring
Mar 11 2021
The weather is warming up and spring is finally here! It's time to pull out the grill, pick out the plants for your garden and relax on the patio. It's also the time to check your roof and take care of any issues that occurred during the winter weather. While people rarely think about spring cleaning for the roof, it's an area of your home that should not be ignored.
There are several actions you can take to get your roof ready for the upcoming season. So here's our spring roof checklist:
Routine Inspection
From hail and snowstorms to the buildup of ice dams, your roof takes a beating during the winter months. After these storms we always recommend doing a quick routine inspection of your roof from the ground. There are a number of things to watch out for but try to do an examination as best as you can from the ground. Getting on your roof can be dangerous and should be avoided for your safety. Review your roof for missing, curling or damaged shingles. These are all clear signs that your roof is going to require repairs or maybe even a replacement.
While inspecting your roof, you should also look for signs of the following:
-Loose or exposed nails
-Missing caulk
-Rusted flashing
-Sagging areas
-Excessive granule loss
-Chimney cracks
-Rotten fascia or soffit
Since a lot of damage may not be noticeable from the ground, we also recommend having a professional roofing contractor do a yearly inspection to assess your roof. They will be trained to spot issues that the average homeowner may not notice and will also be able to work with your insurance company if the damage is storm related.
Roof Tune Up
A roof tune-up addresses roof problems before they become an issue. Similar to a car tune-up, it's helpful to the longevity of your roof to have a certified roofer inspect and report minor problems before they become costly repairs. A tune-up also takes preventative measures to stop leaks from developing by sealing exposed nail heads, pipe boots, and counter flashing. At Restoration Roofing, we offer a $99 roof tune-up that includes:
-Counter Flashing Sealing
-Pipe Boots Sealing
-Exposed Nail Coverage
-Full Roof Inspection
-Full Gutter Inspection
-Video and Photo Report
Gutter Cleaning/Add Gutter Guards        
Gutters are an imperative component to the health of a roofing system. Clean gutters ensure that water is flowing smoothly away from your home and help prevent water from backing into your home. Each spring we recommend removing any twigs, leaves, and shingle granules that may have collected during the winter months. Once you have successfully cleaned the gutters, we also recommend you check for any damage or signs of potential issues. Make sure nothing is sagging and that you're not missing any fasteners.
Don't want to deal with the hassle of gutter cleaning? We offer Raindrop Gutter Guard to place over your gutters.  These guards prevent debris buildup by preventing leaves from entering your gutters and keeping water flowing. Once you install Raindrop Gutter Guards, you will no longer have to dread the chore of cleaning your gutters.
Trim Branches
Hanging branches and over grown vegetation are some of the biggest threats to your roof. From puncture holes to gutters being ripped from the home, tree limbs can cause some very costly repairs. The best way to avoid these damages is to trim your tree's branches that are hanging over the roof. Since this can be a dangerous job, we recommend hiring a professional to handle trimming any tree limbs.
An added bonus to trimming branches of nearby trees is that you'll have less leaves or debris in your gutters. Handling this during the spring will also be much easier than waiting until everything is in full bloom.
Interested in getting our help on your spring roof checklist? Give us a call and we will have one of our experienced project managers provide you with a comprehensive inspection. Having a roof inspection by a local Memphis roofing company will extend the life of your roof and your home.
If it has been a while since you had your roof inspected, contact Restoration Roofing today! Contact us at 901-563-8645 or click here to set up a free inspection. We offer free inspections that are easy and completed quickly. Make sure to follow us on Facebook and Instagram for more tips on taking care of your roof.