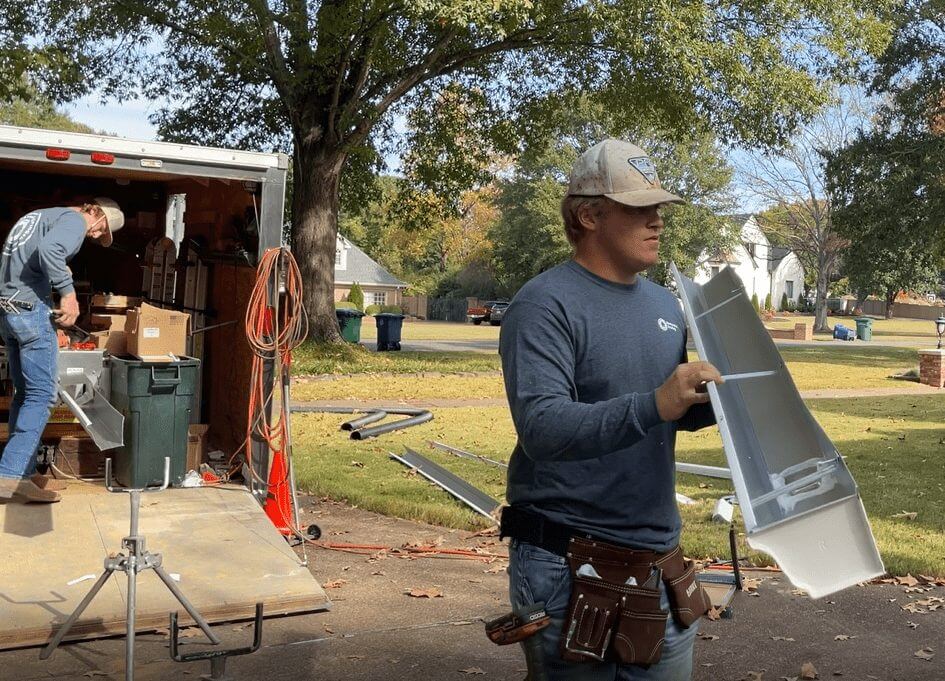 How Much Do Gutters Cost in 2022
Jan 12 2022
Gutters are your roof's best friend. They work very well together at managing water around your home. Your roof's purpose is to shed water and your gutter's purpose is to manage the distribution of water around and away from your home. In this article, we will break down how much gutters will cost you in 2022.
Just like roof pricing, gutter pricing varies depending on a few factors. Those factors being the following:
1. Are existing gutters being removed?
2. Are 5 or 6" gutters being installed?
3. Number of stories on the home.
4. Are straight runs of gutters being installed, or do you have a lot of mitres (corners)?
5. How many Downspouts are being installed?
Let's look at all of these one by one and assume we have a home that needs 300' of gutter installed.
Are existing gutters being removed?
When you have existing gutters on your home, there is additional cost in installing new gutters. The old gutters must be removed, and a good company will haul the old gutter off and dispose of them. To do this, you are looking at a range of $2.00 – $3.00 a foot. On a 300' gutter system, that is $600 – $900. After gutters are removed, any rotten fascia must be replaced before new gutters are installed. Companies usually charge between $15-$25 a foot. That'll be an additional $75- $125.
So far, we are at $615- $1,125.
Are 5" or 6" gutters being installed?
This is where all the fun begins! Your gutters are being installed. A good contractor is going to use professional grade gutter hangers and not spikes, so this pricing includes all the hangers needed to hang the gutters. For 5" gutters, the range is between $6 – $9 a foot, so for 300' you are looking at $1,800 – $2,700. 6" gutters range from $10- $12 a foot so that makes the range $3,000 – $3,600. For the sake of the rest of the calculations, I'm going to use the 5" gutter pricing as they are the most common in the Memphis area.
Now with the removal and wood replacement we originally covered added with the new gutters, you are looking at $2,415 – $3,825.
How many stories is the home?
Two and three story homes naturally can cost more to do work on. There are no additional materials involved to install on multiple stories, but labor can cost more. This is due to the increased risk and working on taller ladders, which is more difficult. Often times, taller structures require more installers to install the gutters properly. At Restoration Roofing, we do not charge additional for 2x stories. Additional charges can be incurred if the structure is 3 or more stories.
How many corners are being installed?
Where gutters meet at corners are called Mitre Joints. These are for both inside corners and outside corners. There are a few ways to make these corners join, but all of them require extra labor and can be time consuming to do. Corners range from $15-$30 per corner, depending on your contractor.
For our example, let's assume the 300' gutter system has 4 corners. This adds $60 – $120 to the price. This puts us now at $2,475 – $3,945.
How many downspouts are being installed?
Downspouts add additional cost to the roof. The standard downspout size is 3"x4" rectangular downspouts. Another common type of downspout is the 4" round downspout. It seems that about half of gutter contractors charge per foot of downspout and the other half charge per complete downspout. At Restoration Roofing, we charge per downspout and the price increases if the downspout has to be 2 or more stories tall. There is a general rule of thumb that you need one down spout for every 30 feet of gutter, so this would mean we would need approximately 10 downspouts for our 300' gutter system.
Let's assume this is a one-story home. The price for a one-story downspout range between $75 and $90. This adds an additional $750 – $900.
Final price for our hypothetical gutter job will be anywhere from $3,225 and $4,845.
This range is purely to give a ballpark figure for you to consider. Your actual price will depend on your location, material availability, and your contractor.
If you are having issues with your gutters, call us to inspect, find the issue and provide a solution that will get you set for years to come. To get in touch with one of our project managers, give us a call at 901-854-3402 or click here to set up an inspection and digital report. We offer free inspections that are easy and completed quickly. Make sure to follow us on Facebook and Instagram for more tips on taking care of your Memphis gutters.