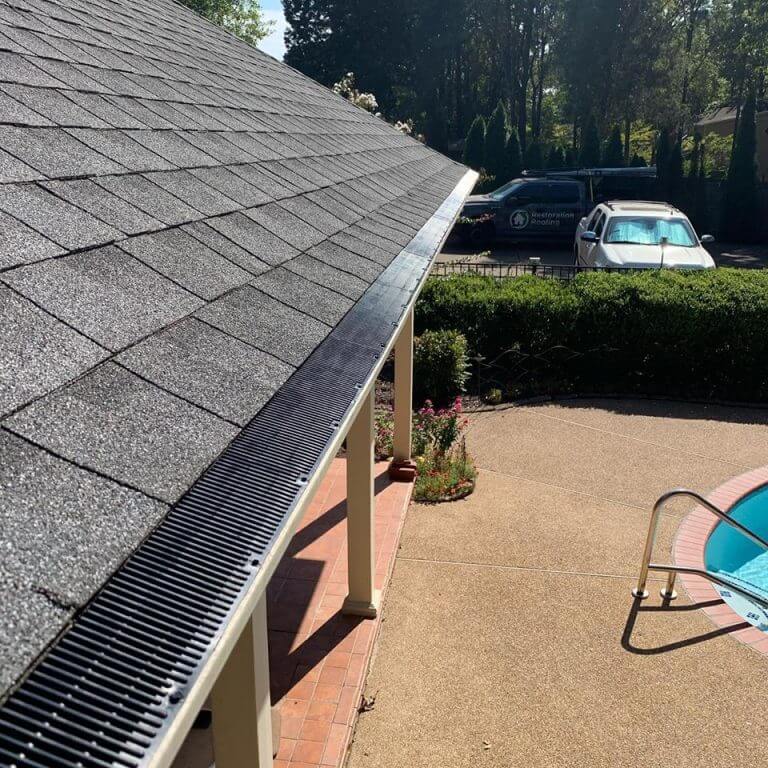 How Much Do Gutter Guards Cost?
Feb 16 2022
Gutters and roofs are like two peas in a pod. They make up what we call your home's "water management system," where, your roof is designed to keep water out of your home and your gutters are designed to get that water away from your foundation. With that being said, gutters are ineffective if they can't allow water to freely flow through them. Falling leaves, seeds, twigs, pine needles, and roofing granules are what we commonly see clogging up gutters.
For this reason, we always recommend gutter guards on homes where a lot of falling debris will be present. There are many different kinds of guards out there and a very wide range of prices. In this article, we are going to help you put a ballpark price on some of the cost of different kinds of gutter guards you can buy.
Before Installation
If gutter guards are being installed on existing gutters. The price per foot actually increases because there is more work that has to be done before they are installed. Things like clearing the gutter of existing debris, reinforcements to the gutters, and sealing of the gutter joints can all affect the price of a gutter guard installation. That's why I will give you a price range in the exercise below:
Gutter Mesh/Screens
One of the most common and least expensive gutter guards we see are what we call gutter mesh. These guards are made out of metal and are usually in a woven pattern. They come in a wide variety of finishes and materials, but for the sake of this exercise I will give you a price example of the kind we install.
At Restoration Roofing, we install a metal mesh that snaps into your gutters and stays under tension, like a spring. This makes the mesh stay tight against the gutter and actually causes it to rise up out of the gutter slightly to make an arch. This is designed to stop debris from building up like it would on a flat or concave gutter guard. These range in price from $5.00 a linear foot to about $7.00 a linear foot, installed. An average size suburban home will have around 350 linear feet of gutter. That will give you a price of $1,750 to $2,450 for mesh gutter guards.
EZ Flow/ SURE Flow Style Gutter Guards
The next, middle tier, kind of gutter guards are what we call ez flow and sure flow gutter guards. These kinds of gutter guards have a lower profile and are heavily engineered products. A lot of technology is in these gutter guards that allow them to collect as much water as possible while keeping debris out. For this reason, they are more expensive than the basic mesh style gutter guards. Their price ranges from $7.00 to $10.00 a linear foot. This puts you at a total price installed between $2,450 to $3,500.
Specialty Raindrop Gutter Guards
There are a lot of specialty gutter guards out there that have ingenious designs and serve special purposes. Many of these can exceed $40 a foot, but they usually come with very good warranties. At Restoration Roofing, we have a specialty gutter guard that works extremely well at a fraction of the cost of the other big specialty gutter guard brands: Raindrop Gutter Guards. These gutter guards are made out of an extremely durable material and are installed at a slope so that debris flow off of the guards. They work so well that we have never had a single complaint about them, despite installing several thousands of feet of them. They also come with a 20-year manufacturer's warranty. These gutter guards range in price from $15.00 to $25.00 a linear foot. That brings your total cost on 350 linear feet to $5,250- $8,750.
Working With Restoration Roofing
If you are having issues with your gutters, call us to inspect, find the issue and provide a solution that will get you set for years to come. To get in touch with one of our project managers, give us a call at 901-854-3402 or click here to set up an inspection and digital report. We offer free inspections that are easy and completed quickly. Make sure to follow us on Facebook and Instagram for more tips on taking care of your Memphis gutters.