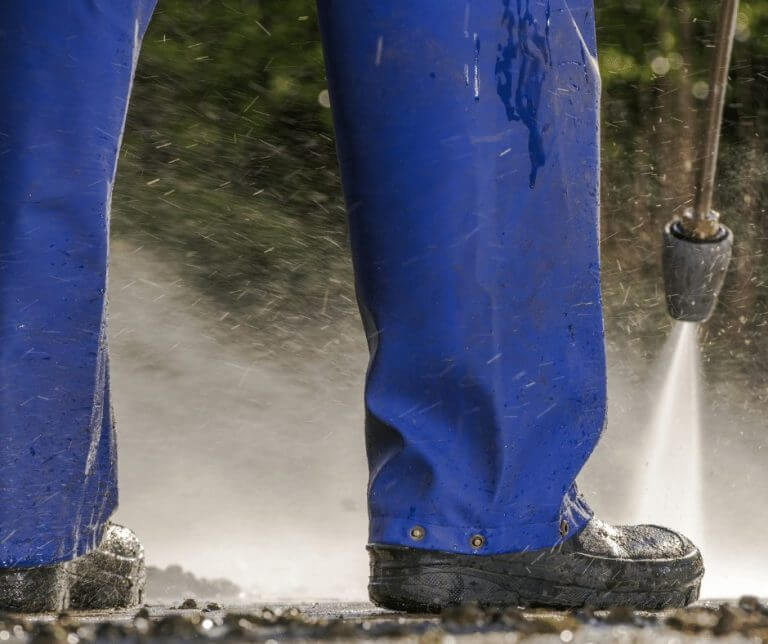 Does Roof Washing Damage Shingles?
Feb 15 2022
It seems like there are so many companies popping up offering roof washing services. These services can be a great way to remove moss and algae from roofs, but there may be a downside to washing your roof: damage to your shingles and a reduced lifespan of your roof.
In this article, we are going to explain how roof washing can cause you to have to replace it sooner.
Pressure Washing
Unfortunately, there are still companies that use high powered pressure washers to wash shingles. On the top of your shingles are small granules that function as the protective layer of your shingles. These granules are there to make water shed off of the roof quicker without having time to get into the asphalt and fiberglass under-layers. Naturally, over time, these granules fall off of the shingles. Once the granules begin to rapidly come off of the roof, that's usually when you need to start thinking about replacing the roof. If you power wash any shingle, this will rapidly accelerate the shedding of granules and will compromise the integrity of your shingles very quickly. Be aware what equipment your roof washer is going to use and ask them if they are using high powered pressure nozzles. If they are, do not hire that company.
On the flip side, pressure washers can be used on metal roofs and some commercial flat roof materials, but there are still some precautions to take. We will write about this in a different article.
Chemical Soft Washes
A lot of companies advertise their "soft wash" technology that is safe for roofs. I will start by saying that the "soft" part of the wash means that they are not using high pressure. This part of the process is good because they are not causing direct physical damage to the shingles.
The problem comes in with the chemicals they use. Most of the time, a soft wash will be a mixture of water and sodium hypochlorite, AKA: Bleach. Bleach is great at killing organic growth like algae, lichens, and moss, but there's a huge downside to using bleach…..it can dry out the asphalt. When bleach is sprayed on an asphalt shingle, is also removes a lot of the oils that are naturally found in the asphalt part of the shingles. This oil is what allows the shingles to say semi flexible and will naturally dry up over time. Bleach rapidly accelerates this and dries out perfectly good shingles.
To the average homeowner, after a bleach treatment, your roof will look clean and sometimes like new, but behind the scenes, your shingles may be damaged. This does not mean that the shingles are going to completely fall off your roof and you'll be left without a good roof immediately. This all depends on the original condition of the shingles, the age of the roof, and how many washes have been performed on the roof.
There are also products that are considered organic roof cleaners that are supposed to be safer for shingles, but they aren't as effective at immediately removing algae from your roof and the verdict is really out on rather or not they are truly safe for shingles, or not.
The Solution
When it comes to the ultimate protection against algae, we always recommend homeowners install a shingle that has 3M Scotchgard technology if they are in the market for a new roof. This will prevent your roof from ever needing to be washed. Our favorite shingle is the Atlas Pinnacle Pristine shingle with 3M Scotchgard technology.
Now, if replacing your roof is not in the cards, there are some new emerging technologies in the field of shingle oil treatments. These are products that can be applied after a roof is washed, even with bleach, that claim to add oil back into the shingles. Thus, keeping them from drying out and becoming brittle. For more information, check out Roof Reboot, a local Memphis company that offers this solution.
If you have any questions about the condition of your roof, please feel free to give us a call. Restoration Roofing is a fully insured and BBB A+ rated company offering a range of roofing and gutter services. To schedule a complimentary digital roof inspection, give us a call at 901-854-3402, or contact us online. We are happy to serve Memphis and the surrounding Midsouth! To see more updates from Restoration Roofing, check out our Facebook page.