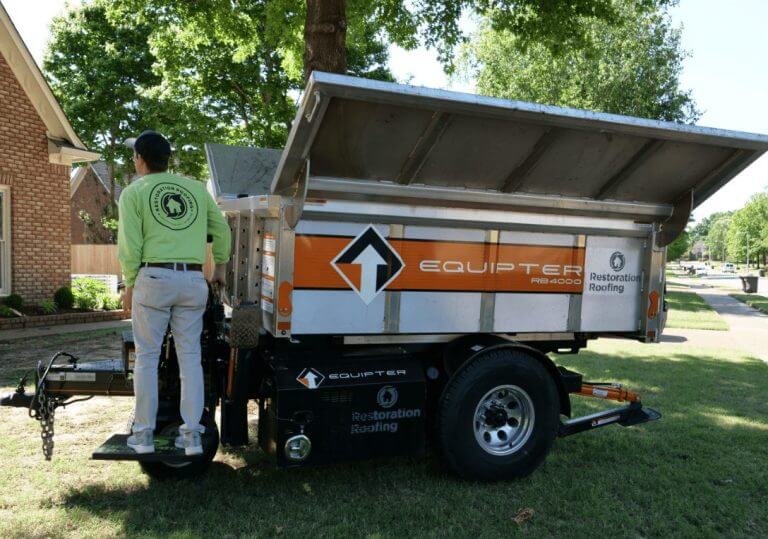 Benefits of Using the Equipter for Residential Roofing
Oct 16 2020
Roofing is a labor intensive and hazardous occupation. From falling debris to hauling bundles of shingles up a ladder, any roofer can attest to the difficulty of the job.
Luckily, there are tools such as the Equipter RB4000 that simplify the process and ensure a clean worksite for our customers. At Restoration Roofing we are fortunate to have two Equipters that allow our crews to work more efficiently and safely.
Since a lot of customers may not be familiar with the Equipter, we wanted to share all of the benefits that come with us having one on our worksites. When you choose a company that offers the Equipter RB4000 you can be sure that your new roof experience will be safe, efficient, and tidy compared to the traditional roofing experience.
What is an Equipter?
The Equipter is a valuable tool for any roofer with it's ability to increase production and to help our customers receive roofing services faster and more efficient. The self-propelled, raisable trailer takes the hassle out of debris management with it's 12-foot lift, 4-foot roll-back feature and 4,000 lb capacity.
Limits the Amount of Falling Debris
During the roofing tear off process it is common to see debris and shingles laying all over the yard. Any kind of construction site is going to be messy, but that's why the Equipter is such a great roofing tool. We are able to raise the trailer of the Equipter up to 12' high, so our roofing crews can easily dump their materials into the buggy rather than dropping them onto the ground.
Protects Your Landscape
We know our customers put a lot work into their landscaping and while we always cover plants and windows with tarps and plywood, the Equipter ensures that the yard is kept clean throughout the entire project.
As a self-propelling machine with wide tires, it can be easily maneuvered into place at the job site and driven across a homeowner's lawn without causing damage to the grass or landscaping.
Simplifies Hauling Materials           
In the traditional tear off process our crews have the added steps of picking up the debris by hand, loading them into wheelbarrows and then hauling it to a trailer.
Fortunately, with the Equipter we can eliminate all that extra time and manual labor. Once the Equipter is full, one of our crew members can simply drive it to the dumpster, lift and dump.
Once tear off is complete, it can be used to raise new roofing materials and supplies necessary for the roof installation.
At Restoration Roofing we want to ensure a hassle-free roofing experience for all our customers, and using the Equipter for residential roofing helps us do just that. Give us a call at 901-854-3402 for a free quote on your next roofing project and hire the residential roofing professionals who will protect your property. We offer free inspections that are easy and completed quickly. Make sure to follow us on Facebook and Instagram for more tips on taking care of your Memphis roof.