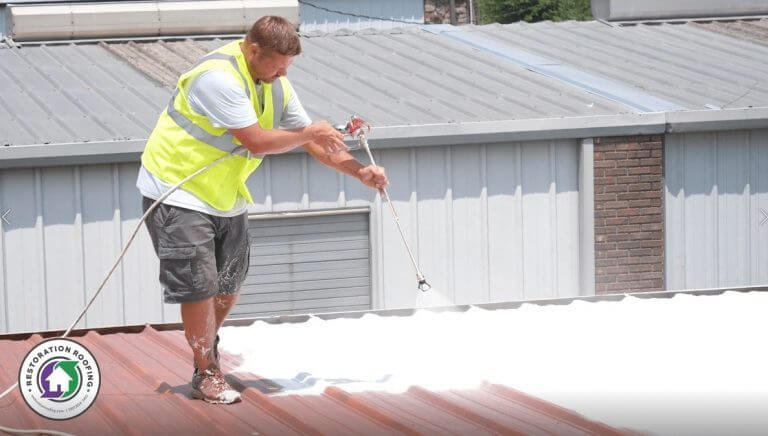 Benefits of Coatings for your Memphis Commercial Roof
Mar 31 2022
Are you looking at a new roof for your commercial building in Memphis? There are a lot of options available out there, but in this article we want to share with you the benefits of
roof coatings
.
To begin, it helps to know what a coating is. A roof coating is a "fluid applied roofing system." What this means is that it is applied similarly to how paint is applied. It comes in liquid form and has to be rolled or sprayed onto the roof. There are also different kinds of coatings. The three big ones being acrylic, silicone, and urethane.
Benefits of Roof Coatings
No tear off– if you decide to install coatings for your Memphis commercial roof, there should be no significant tearing-off of old roofing materials. Coatings can be installed on existing or old roofs in most cases. The surfaces do have to be cleaned and prepared well so that the new roof coating will adhere properly, but there is very little debris that has to be disposed of. Not discarding old materials is better for the environment and it helps save you money because you aren't having to pay for tear off labor and dumpsters.
Versatility– there are roof coatings for just about every kind of application. If your old roof is metal, TPO, PVC, bitumen, built up, and so on, there is a coating that will work for you.
Longevity– commercial roof coating technology has come a very long way. Coatings can last over 15 years if installed correctly and manufacturers even offer warranties that can extend beyond 15 years in some cases. Some coatings have longer warranties than those of TPO and PVC membranes.
Ease of installation– the most important step in a roof coating is to prep the surface. This can range anywhere from a power wash on a metal roof, to a soft chemical wash on a TPO or bitumen roof. Other than that, the coating process is pretty simple. All of the seams, penetrations, and fasteners must be prepared properly, but all of this can be done with fairly simple tools. There are no expensive heat welders or flashing pieces required on a coating job like you would see on a TPO or PVC roof installation. All of this can lead to a lower cost for the commercial building owner.
Easy to repair– if your roof is ever damaged or let's say you have to do something on the roof like add HVAC equipment, coatings can be easily reinstalled in areas that need them. These repairs can usually be done by 1-2 people in a short amount of time. Also, should you develop a leak somewhere on the roof, coatings allow you to spot coat those areas.
Good long term roof solution– let's say your coating is now 10-15 years old and you are wanting to re-coat your commercial roof. Unlike TPO and other roofing membranes, in most cases, all you have to do is pay for a new top coat. Since the vulnerable areas of the roof, like the seams, have already been coated, you can easily install a layer of top coat over what you already have and the finished product will be as good as a brand new coating.
Coatings are gaining in popularity for these reasons we listed, and more. They are a great alternative to full roof replacements and can save commercial building owners money. That being said, any kind of roof needs to be installed by qualified installers, so make sure you do your research on your roofer before you hire them.
Work With Us For Your Commercial Roof Coatings
Restoration Roofing is a fully insured and BBB A+ rated company, specializing in coatings for your
Memphis commercial roof
. To schedule a complimentary digital roof inspection, give us a call at 901-854-3402, or 
contact us
 online. We are happy to serve all of Memphis and the surrounding Mid-South! To see more updates from Restoration Roofing, check out our 
Facebook page
.