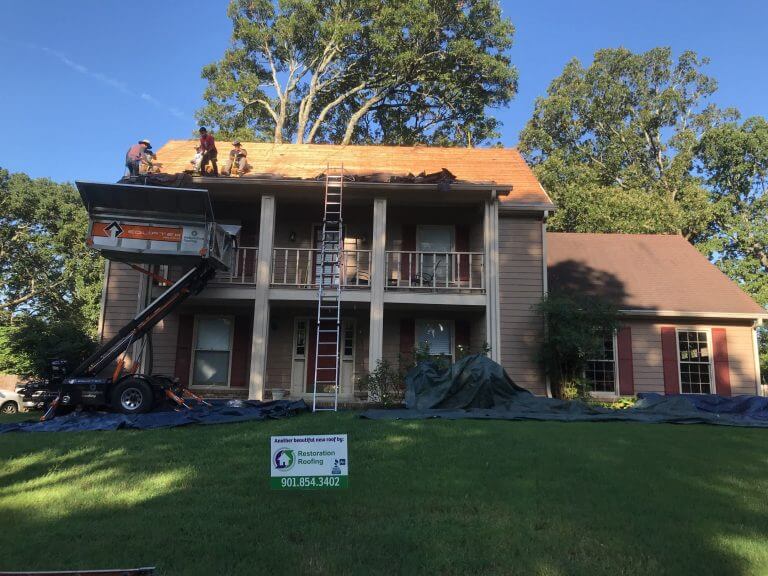 7 Tips to Prepare Your Home for a New Roof
Jul 29 2020
Having a new roof placed on your home is an exciting undertaking but most homeowners do not know what to expect or how to prepare their home for a new roof.
Before each new roof, we have our Project Managers contact the customer to share what they need to do to prepare their home. But we thought it would be helpful to create an in-depth post for any homeowner getting a new roof installed.
We believe that it is always a good idea to have the contractor and homeowner on the same page of what to expect to ensure the whole process goes as smooth as possible. So here's our 7 top tips:
Be Ready to Start Early: We like to start the tear off process around 7 am, especially in the summer with the Memphis heat. We don't need you to be present during the entire roofing process, but we do need to be sure that we have access to your backyard and are available for any questions you may have.
Cover or Remove Valuable Item in the Attic: We always want to ensure that your valuables are protected and covered. Extensive work is being done on your roof including numerous installers walking on your roof and nail guns hammering into your roof. We suggest wrapping up any valuables, but we will lay down plastic in your attic before installation starts or we will vacuum your attic once the project is completed.
Move Vehicles from Driveway: Sorry, but on roofing day you have to give up your prime parking spot! Ideally, we ask that our customers park on the street the day before construction, that way we have a place to unload shingles and materials. We also need access to the driveway to place the dump trailer and our trucks close to the house.
Move Outdoor Furniture and Outdoor Home Décor: During the tear off of your roof, the roofers will be throwing old shingles and debris to the ground. We will place tarps and plywood over your plants and windows to keep the debris from doing any damage, but we suggest moving any patio furniture, garden décor etc., away from your home to prevent them from being damaged. This also makes certain that our crews do not have any tripping hazards where they are working.
Keep Animals and Children Away from the Work Area: While it may be fun to watch the roof redo, it is better to be done from a safe distance. We recommend explaining to your kids that there are certain areas of the yard that are going to be inaccessible while the crews are working. Dogs can also be bothered by the commotion of construction going on at the home, that is why we suggest having children and pets stay with family or friends while the roof is being replaced.
Be Careful Walking the Area: We will work with you to choose an access point where you can safely exit and enter your home without worrying about falling debris or nails on the ground. Whenever we do a roof tear off, there will be a number of nails on the ground, but we always go over the yard and driveway areas with a strong magnetic roller.
Talk to Your Neighbors: It might be best to let your neighbors know that you have work planned and a timeline of how long the project will take. This will give them a chance adjust their schedule, if needed, and they can be prepared for the noise that comes with a large construction project.
At Restoration Roofing we have the experience and expertise to help you through the entire process to replace your Memphis roof. To get in touch with one of our project managers, give us a call at 901-854-3402 or click here to set up a free inspection. We offer free inspections that are easy and completed quickly. Make sure to follow us on Facebook and Instagram for more tips on taking care of your Memphis roof.
For more information check out our video: