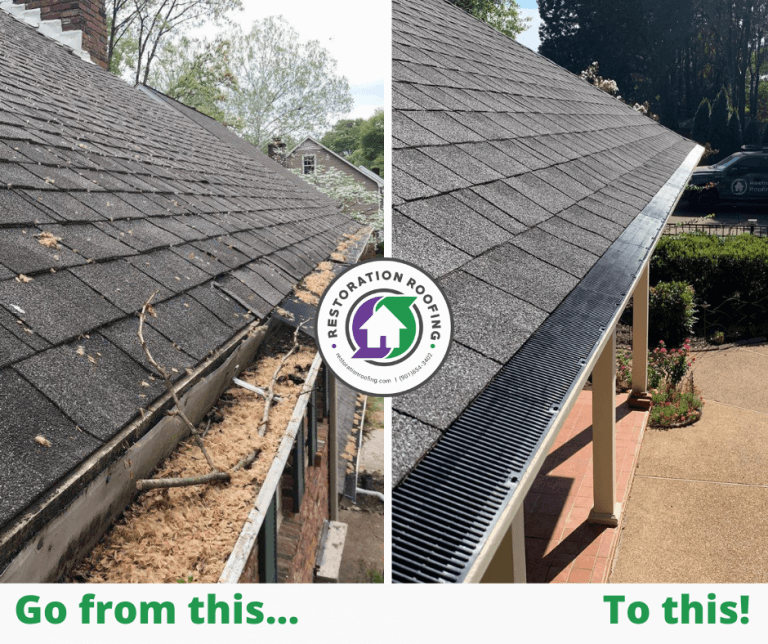 5 Reasons For Fall Roof and Gutter Cleaning
Nov 09 2020
It's that time of year again! The leaves are changing, everything is pumpkin spice, and you are already planning out your Black Friday shopping list.
Unfortunately, in the Mid-South the season also comes with heavy rains, clogged gutters and roofs covered in fallen debris. Not to put a damper on your holiday cheer, but in the roofing world these issues can turn into major problems down the road. That's why we suggest having your fall checklist include removing leaves, sticks, and debris from your roof and gutters.
Here are our top reasons why we recommend cleaning out debris from your gutters and roof:
Protect Your Roof: When your gutters clog to the point that water is unable to flow away from your home, your roof is at risk of flooding. The water overflow will damage roof shingles which will eventually lead to leaking into your home. Repairing leaks into your home can be a costly undertaking so that's why we recommend making sure your gutters are always clear.
Keep Pest from Causing Damage: A bed of damp leaves can be very inviting to critters looking to make a nesting site on your home. Mosquitos, termites, and rodents will all be tempted by any sitting water that has collected in your gutters.
Reduce Risk of Cracked Foundation: Gutters are installed for a reason – to make sure that water flows away from your home and not into the foundation. If your gutters are clogged it can result in water overflowing and pooling around your home, leading to much more expensive home repairs.
Damage to fascia: The fascia is the board that runs behind your gutter. Heavy clogged gutters will cause wear and tear on the fascia boards and also on the brackets holding up the gutters.
Poor Curb Appeal: The appearance of your home is not the most important factor for gutter and roof cleaning, but it is the most noticeable. Buildup of debris in the valleys of your roof and in your gutters will be easily seen from the front of the home. The buildup will also cause wear on your shingles and exterior that will be noticeable from the ground.
Now that you understand the importance of gutter cleaning, we want you to know that you don't have to worry about doing it yourself. If you need gutter or roof services, such as cleaning or repair, be sure to contact Restoration Roofing at 901-854-3402.
Don't want to deal with the hassle of gutter cleaning? We offer Raindrop Gutter Guard to place over your gutters.  These guards prevent debris buildup by preventing leaves from entering your gutters and keeping water flowing. Once you install Raindrop Gutter Guards, you will no longer have to dread the chore of cleaning your gutters.
And as always, if you have any questions or doubt about the condition of your roof Restoration Roofing will provide you with a free inspection. To get in touch with one of our project managers, give us a call at 901-854-3402 or click here to set up a free inspection. We offer free inspections that are easy and completed quickly. Make sure to follow us on Facebook and Instagram for more tips on taking care of your Memphis roof.