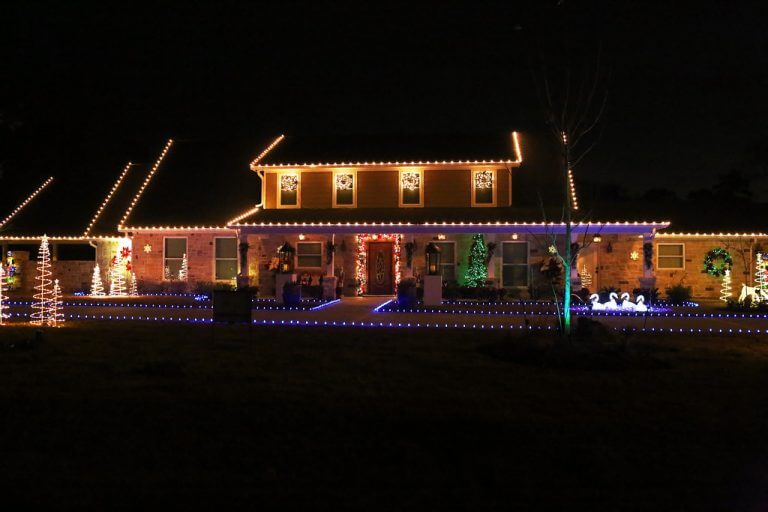 3 Tips for Hanging Christmas Lights Without Damaging Your Roof
Nov 24 2020
Don't cause your shingle to jingle this holiday. Whether you are the kind of person that starts decorating the beginning of November or waits until after Thanksgiving, it is important to know how to safely hang your Christmas lights on your roof.
There is a lot of misinformation out there about nailing or stapling lights to your roof, so we put together some tips to ensure your light display not only looks great but also does not cause any damage to your roof.
Avoid Putting Holes in Your Roof
Those familiar with Christmas Vacation will remember the scene where Clark Griswold starts stapling lights onto his roof (or at least tries). Not only will they be impossible to take down, but you want to avoid placing any holes into your roof, gutters, or fascia boards. Using staples, nails or screws into your shingles creates water intrusion points and results in rotten roof decking. Additionally, these intrusion points will eventually leak and water will make its way into your home.
If you choose to place hooks that will remain year-round on the fascia boards, then we recommend caulking around the hook to seal any water from entering.
Use Plastic Clips
There are a variety of plastic clip options available that hang Christmas lights without causing damage to your roof or siding. The type of clip that will work best for you will depend on which sort of roof you have and what kind of Christmas lights you intend to hang. It's best to attach these clips to the gutters and eaves of your home rather than shingles. If you must attach to shingles, be sure to purchase the appropriate clip and carefully follow the manufacturer's instructions.
Limit Walking on Your Roof
Limiting the amount of time you spend walking on your roof will increase its lifespan. When placing lights on the roof, it's best to stay off the roof and put lights up from a ladder. Walking on your roof can also be dangerous, so we recommend hiring a professional to place lights in an area that requires walking on the roof. Our local recommendation is Green Earth LLC. Contact them at 901-491-0860 for a free estimate.
If you do need to get on your roof be sure to walk gently, wear soft shoes like sneakers, and avoid walking on shingles in the heat of the day when the roof is in direct sunlight.
We hope that you found these tips helpful. If you have any questions about how to safely hang Christmas lights without damaging your roof, or have any roofing needs, please call Restoration Roofing at 901-854-3402. Make sure to follow us on Facebook and Instagram for more tips on taking care of your Memphis roof.
The team at Restoration Roofing wishes you a safe and happy holiday! Happy decorating!